Kategorien
Service
Seitenabrufe

131109611 Seitenabrufe seit dem 30.06.2003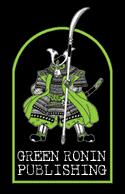 Green Ronin Publishing
(auf das Logo klicken, um zur Firmen-Website zu gelangen)
Green Ronin is a Seattle-based company that produces roleplaying games and other entertainments for the adventure gaming industry.
Chris Pramas

Green Ronin founder Chris Pramas has been working in the game industry for the past ten years. He got his start as a freelance writer, and made his name working on such game lines as Warhammer Fantasy Roleplay, Feng Shui, and Underground. He later jumped into the deep end, starting his own company, Ronin Publishing, with two partners. Having gained some important business experience dealing with the struggles of every small game publisher, Pramas then pulled a 180 and landed a job as a RPG designer at Wizards of the Coast. He spent four years working for Wizards, ending his time there as Creative Director for Miniatures R&D. While still at WotC, he started Green Ronin Publishing as a side venture. Green Ronin proved so successful that after leaving Wizards in March of 2002, Chris was able to jump right into running the company full time. He has won three Origins Awards and two ENnie Awards for his work. He is best known as the author of the AD&D Guide to Hell, Dragon Fist, and Death in Freeport.
Nicole Lindroos

Nicole is a long-time industry veteran, having worked for Lion Rampant, White Wolf, Adventures Unlimited Magazine, and Cheapass Games. She has also done freelance work for Earthdawn, Everway, and Unknown Armies, to name a few. Nicole is Green Ronin's Business Manager, and she's the sweetest person you never want to piss off.
Hal Mangold

Hal used to be in charge of this Web site, and now spends his days and nights as Green Ronin's Production and Art Director. Prior to that he was the Deadlands brand manager for Pinnacle Entertainment Group.
Evan Sass

Evan spent several years as Webmaster for Rubicon Games and Games & Gizmos, and has worked at the MSN Gaming Zone and Cranium. He also edited Green Ronin's first product, Ork! The Roleplaying Game, and has provided editing and proofreading for a handful of our other books. Evan is Green Ronin's Webmaster, for GreenRonin.com and MutantsAndMasterminds.com.
Contacting Green Ronin

Need to get in touch with some one at Green Ronin Publishing? Drop us a line at the address below.

Green Ronin Publishing
P.O. Box 1723
Renton, WA 98057-1723

or use our handy feedback form.

If you are interested in submitting writing or art,
before you do anything please first check out our
Submissions Policy.
Hauptproduktlinien

Welcome to bluerose.greenronin.com, the official home on the Web of Blue Rose, Green Ronin Publishing's Roleplaying Game of Romantic Fantasy. This is the place to find Blue Rose fiction, previews, product support, and information about all of the Blue Rose products.

Join the never-ending battle for truth and justice in the world's greatest superhero universe, using the world's greatest super-hero roleplaying game! The DC Adventures Hero's Handbook is a complete super-hero RPG, based on the
award-winning Mutants & Masterminds system. Take on the roles of legendary
DC heroes like Superman, Batman, or Wonder Woman, or create your own!
Get started right away with a wide selection of hero archetypes, or build
from scratch using a comprehensive creation system.
The Hero's Handbook provides everything you need for hours of adventure in the DC Universe,including all the rules of the game, an overview of the original comicbook setting, and details on major heroes and villains, complete with game information.
It's all presented in gorgeous full-colour, with art by some of
DC's most famous illustrators.
Experience super-hero adventure in the world that defined the genre: Become a hero of legend with the DC Adventures Hero's Handbook!
DC Adventures will feature the 3rd Edition rules of Mutants & Masterminds.

A New Age of Fantasy Roleplaying

It has been hundreds of years since the last Blight ravaged the world of Thedas. Many believe that it can never happen again, that the Dragon Age will pass without the rise of such evil. They are wrong. Beneath the earth the darkspawn stir. A new archdemon has risen and with it a Blight that will scourge the lands and darken the skies. The nations of Thedas need a new generation of heroes, but who will answer the call?

Fantasy roleplaying goes back to its dark and gritty roots with the Dragon Age RPG, the latest game from the company that brought you A Song of Ice and Fire Roleplaying and Mutants & Masterminds. Based on the highly anticipated Dragon Age: Origins computer game, the Dragon Age RPG brings the excitement of BioWare's rich fantasy world to the tabletop. Make your own heroes and control your own destiny as a Blight comes to Thedas once again.

Designed by award-winning author Chris Pramas (Warhammer Fantasy Roleplay, Freeport), Dragon Age features an all-new game system that's both easy to learn and exciting to play.

* The boxed set includes: A 64-page Player's Guide with an introduction to tabletop roleplaying, background on Thedas and the nation of Ferelden, a complete guide to character creation, rules for character classes and talents, a primer on magic, and the basic game rules.
* A 64-page Gamemaster's Guide with an introduction to this key role, advice on the art of game mastering, advanced game rules, and an introductory adventure that plunges the characters right into the world of Dragon Age.
* A beautiful poster map of the nation of Ferelden, the opening setting for the Dragon Age RPG.
* 3 six-sided dice.

The Dragon Age RPG is the perfect portal to tabletop roleplaying. The core system is easy to use and most actions can be resolved with a roll of the dice. Dragon Age also features an innovative stunt system that keeps combat and spellcasting tense and exciting.

So gather your friends, grab some dice, and get ready to enter a world of heroes and villains, of knights and darkspawn, of gods and demons... the world of Dragon Age!

The Fantasy AGE Basic Rulebook is your entry point to tabletop roleplaying. Now you can be the hero in your own sword and sorcery adventures! This is the game played on Wil Wheaton's new tabletop RPG show, Titansgrave: The Ashes of Valkana. The Adventure Game Engine (AGE) rules are easy to learn, and feature an innovative stunt system that keeps the action tense and exciting.
This Basic Rulebook includes full 20 level advancement for all three classes, a new magic system, advice for players and GMs, and an introductory adventure so you can get started right away. You can use Fantasy AGE to run adventures in the campaign setting of your choice or a world of your own creation. A new AGE is upon us!

Hier findet Ihr alles von Green Ronin zum Thema D20.
Über Freeport bis Races of Renown, zu Master Class.

Hier findet Ihr sie.

(Mutants & Masterminds läuft als eigene Serie)

Nebenproduktlinien

Enter the Modern AGE!

Leap into exciting adventure in any era from the Industrial Revolution to the modern day and beyond. The Modern AGE roleplaying game allows you to shape the setting to suit your style—whether it's gritty action or high adventure, urban fantasy or a dystopian future. With a new, classless character-building system, twenty levels of advancement, and optional rules for psychic and magic powers, you can create the heroes your world needs. Along with an innovative stunt system, rules for thrilling chases, and an introductory adventure, you'll find all the action you're after inside the Modern AGE Basic Rulebook.

The Modern AGE RPG features:

A classless implementation of the Adventure Game Engine. Develop characters based on their backgrounds and experiences across 20 levels of advancement.
Focuses, talents, and specializations like Investigator, Hacker, and Martial Artist let you customize your character.
Fast-paced combat featuring modern weapons and high-octane vehicle chases.
A game based around action, exploration, and social stunts. Roll doubles on three six-sided dice and something cool happens!
Arcane magic and psychic powers for modern era games.
Advice for first time and veteran Game Masters, including ways to customize the system for gritty stories, two-fisted pulp, and cinematic high adventure.
Sample antagonists and other non-player characters, and an introductory adventure: everything you need to start playing right away.
Use Modern AGE in the campaign setting of your choice, including the World of Lazarus, based on Greg Rucka's creator-owned comic series of near-future feudalism, or use it to run adventures in the world you create. Grab three six-sided dice, and you're ready to play in the Modern AGE!

What is Mutants & Masterminds?

Mutants & Masterminds, or M&M for short, is an adventure roleplaying game in which you, the players, take on the roles of fictional superheroes having thrilling adventures in an imaginary world. One player, the Gamemaster, takes on the job of creating that world and the stories for the other players to take part in. Together, you create your own tales of heroic action and adventure, like your favorite superhero comic books, television shows, or movies. You don't need any expensive computers or video game systems to take part though. You just need a books, some friends, and plenty of imagination.

Nebenproduktlinien

Das Ork-Rollenspiel - wolltest du schon immer ein Plünderer sein?

Archangel Studios' The Red Star took the comic world by storm in 2000, with its innovative storyline and gorgeous computer-generated art. Now Green Ronin brings this award-winning world to the d20 System with The Red Star Campaign Setting. The epic mythology of the Soviet Union comes to life in a bold setting that combines science fiction and sorcery.

While the workers and peasants of the U.R.R.S suffer under the rule of Imbohl, a murderous sorcerer of incredible power, the Heroes of the Red Star struggle to rekindle the true spirit of the Revolution and to save the very souls of their people. Will you join the cause of Marcus, Maya, and Makita, pitting your will against the Skyfurnaces and Military Industrial Sorcery of Imbohl's regime?



What Is True20?

True20 is an adventure roleplaying game in which you, the players, take on the roles of fictional heroes having thrilling adventures in an imagined environment. One player, the Narrator, takes on the job of creating that environment and the stories for the other players to take part in. Together, you create your own tales of action and adventure, like your favorite novels, movies, or video games. You don't need any expensive computers or video game systems to take part though. You just need a few books, some friends, and plenty of imagination.

The best part about adventure roleplaying is you are in control of the action! Literally anything you can imagine is possible, because you control the story.

True20 is the latest in generations of adventure roleplaying games that have been around since the 1970s. How is it different? Well, True20 is...
Familiar!

Thanks to something called the Open Game License, True20 is based on the world's most popular roleplaying game system, giving it many elements familiar to fans and players of that and other similar systems.

True20 has heroic roles to help define its characters, and six ability scores (Strength, Dexterity, Constitution, Intelligence, Wisdom, and Charisma) to describe their capabilities. It uses skill ranks and heroic feats as well as saving throws. If these things sound familiar, you probably already know a great deal about how to play the game!

This familiarity lets you tap into a bigger audience of players. Even if they haven't played True20 before, odds are they already know how! If roleplaying is new to you, that's OK too. True20 gives you everything you need to get started in a rewarding and enjoyable hobby.
Fast!

Where True20 shines is in using the essential elements of adventure roleplaying, while streamlining them to make game-play fast and easy.

All the action is based around a single core mechanic: roll a twenty-sided die, add (or subtract) a modifier, and compare the result to a pre-determined difficulty number; that's it! It serves as the basis for everything in the True20 system; no need for other dice or types of die rolls, no point counting or multiplying or dividing.

True20 even does away with point accounting: no keeping track of hit points, spell points, fatigue points, and so forth. True20 uses various conditions to describe exactly what's happening in the game quickly and easily; so you can say your character is "bruised" or "staggered" rather than "down 11 hit points" or "exhausted" rather than "only having 4 fatigue points left."

Fans who have played True20 say it runs as fast as an action-adventure story should, without the game rules getting in the way of the fun, which brings us to it's most important quality...
Fun!

True20 is designed by adventure roleplayers for adventure roleplayers. It's meant to be the most amount of fun with the least amount of work, offering flexibility and choice without bogging down in unnecessary detail or rules. It gives you the tools to have exciting adventures and then gets out of your way to let you do it.

To further enhance the fun you can have with True20, Green Ronin has partnered with other game publishers to present you with fantastic worlds of adventure to play in! The True20 Adventure Roleplaying book contains four sample settings covering a broad range of genres, while the True20 Worlds of Adventure book presents five more. The Damnation Decade campaign setting also includes a True20 rules appendix, bringing the number of ready-made worlds of fun and adventure to an even ten, with more to come.
Getting Started

If this sounds like the RPG you've been waiting for, your first stop should be the True20 Adventure Roleplaying rulebook. This is available as both an attractive hardback book and a handy PDF file. If you'd like to see more before you buy, take a look around this website for additional info. You'll find several samples of the rulebook you can check out, and there's also a True20 Quick Start Rules PDF you can download for free. These rules show you the basics of True20 and give you enough info to try it out with Death in Freeport, a free adventure you can also download from this site.

True fun, true excitement, true adventure... True20!

Whispering Vault ist ein beeindruckendes Horror-Rollenspiel, daß seines gleichen sucht. Die Spieler stellen fremdartige Wesen aus den Sphären des Todes dar, die auf die Welt zurückkehren, um andere Wesen aus diesen Sphären daran zu hindern, Unheil unter den Menschen anzurichten. Sie selbst sind Wesen mit grauenhafter Gestalt und gewaltigen Kräften, die mytische Sphären durchwandern auf ihrem Kampf gegen die Mächte der Dunkelheit.
Warenkorb

Im Moment ist Ihr Warenkorb noch leer. Klicken Sie auf 'Kaufen' oder 'In den Warenkorb legen', um ihn zu füllen.
Newsletter