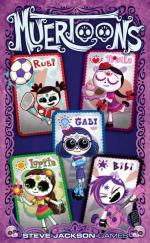 Tio Rico's up to his old tricks!
Based on the popular kid's show, Muertoons Mix-Up shows you the way to the Dia de los Muertos celebration, all with the help of Rosita, Bibi, Rubi, Lupita, and Gabi. With simple rules and colorful art from the show, Muertoons is sure to please little ones.

In Mue...
Zu kaufen unter der Bestellnummer SJG 1382 für 14,00 EUR (Details).