Kategorien
Kataloge
Service
Seitenabrufe

126564333 Seitenabrufe seit dem 30.06.2003
Willkommen im Fantasy En'Counter! Im Augenblick bieten wir 44131 Produkte in 10 Kategorien an. Wir wünschen viel Spaß beim Stöbern und stehen natürlich gerne zur Verfügung!
---
Sechs wählen - Drei bekommen - Zwei zahlen ;-] (Brettspiele)

Der lange Sommer geht fröhlich zu Ende - also Zeit mal wieder mit einer Aktion für Stimmung zu sorgen ...

Wir haben uns etwas Neues ausgedacht !-] Es geht ganz einfach:

Ihr sucht Euch (VOLLKOMMEN UNVERBINDLICH)
6 (sechs) verschiedene Spiele-Titel aus unserem Sortiment zusammen!
(Brett-; Karten-; TableTop Spiele und auch WarGames/CoSims)
"Bitte den Warenkorb wie bei normalen Bestellung verwenden! - Danke!"

Wir bieten Euch davon 3 (drei) Titel (je nach Verfügbarkeit) an!

Und Ihr zahlt nur 2 (zwei) davon!
Der Titel mit dem niedrigsten Preis ist also gratis .... ;-]

Choose Six - Get Three - Pay Two

The long summer is coming to a happy end - time to have an action for a happy mood again ...

We have come up with something new !-] It's easy:

You are selecting/choosing (Not Binding)
6 (six) different titles from our assortment!
(Board, Card, TableTop games and also WarGames/CoSims)
"Please use the shopping cart as normal order! - Thanks!"

We offer you 3 (three) titles (depending on availability)!

And you only pay 2 (two)!
The title with the lowest price is free .... ;-]

Glück Auf! - Holger & Stefan / New Fan'En
Immer in Bereitschaft - auch am Samstag, Sonntag, Feiertag, mitten in der Nacht - egal ... aber bitte mit Termin! (Allgemein)

Wir sind immer voll im Einsatz und erreichbar!
Am Samstag, am Sonntag, am Feiertag und auch mitten in der Nacht - Egal! -
Jeder Termin ist möglich ...

Wir legen jedem der etwas bei uns abholt, auch noch ein "Extra" in Form eines kleinen Würfel Sets gratis dazu!

Egal was Ihr braucht um Eurem Spiel-Trieb zu frönen .....
Wir sind immer für euch da - Daher gilt weiter:
Auch ohne Ladenlokal ist jederzeit - also auch an Sonntagen, an Feiertagen oder auch mitten in der Nacht, ein Besuch möglich!
- nur ein TERMIN sollte unbedingt im neuen Lager vereinbart werden!
(dann aber gilt: 24 Stunden Service! / 7 Tage Woche!! / 365 Tage im Jahr!!!)

Bitte habt Verständnis dafür, dass ein Termin nur möglich ist, wenn vorab eine (vollkommen unverbindliche!) Ordermail eingegangen ist ....

Dazu einfach (wie gesagt - vollkommen unverbindlich!) den Warenkorb ordentlich voll machen, Wunschtermin mit angeben und die Bestätigung sowohl über die Verfügbarkeit der Artikel, wie auch des Termins abwarten - Dann klappt's auch!!

Immer für Euch da - Euer Fan'En Team
Tel: 0201 786877
oder: 0151 14233766
fanen@fanen.com
---
---

Smolensk: Barbarossa Derailed is the latest release in the Operational Combat Series (OCS), covering the campaign along the Moscow highway in the summer of 1941. These actions set the stage for the Wehrmacht's autumn drive on the Soviet capital, and many historians believe the bitter fighting here...
Zu kaufen unter der Bestellnummer GAM 04-17 für 88,00 EUR (Details).
---
You checked your morals at the door and settled in for a night of debauchery, but your fellow Wizards' lust has turned to bloodlust! What Wizard doesn't enjoy an orgy of sex and violence? Just be careful with all the Magically Transmitted Diseases (MTDs) going around.
Crotch Krakens, Genital H...
Zu kaufen unter der Bestellnummer CRYE 02727 für 30,00 EUR (Details).
---
In late December 1944, the American 7th Army was overextended throughout the French provinces of Alsace and Lorraine, covering for units drawn northwards towards the vicious fighting around Bastogne. Sensing this weakness, German High Command launched Operation NORDWIND to retake Alsace and the Fren...
Zu kaufen unter der Bestellnummer MMP HM-HiF für 62,00 EUR (Details).
---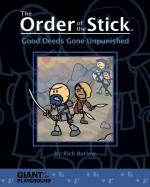 Join the good men and women of Azure City as they fight for, in, and around their homeland in Good Deeds Gone Unpunished, a new collection of stories from The Order of the Stick. This new mostly-prequel features five never-before-available stories, each starring a different Azurite character from th...
Zu kaufen unter der Bestellnummer PZP OTS06 für 26,00 EUR (Details).
---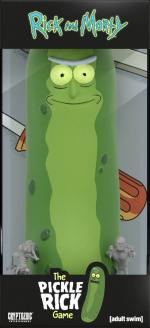 As you might expect, Rick and Morty: The Pickle Rick Game is based on the "Pickle Rick" episode of Adult Swim's Rick and Morty. One player plays as Pickle Rick as he tries to escape a heavily armed compound, while the other player takes on the roles of both the Russians and Jaguar as they try to sto...
Zu kaufen unter der Bestellnummer CRYE 2708 für 44,00 EUR (Details).
---
Willkommen im Europa des Jahres 1733!
Willkommen in der Hölle!
93 Jahre sind vergangen, seitdem ein Trupp unachtsamer Söldner in einem verlassenen Kloster im Schwarzwald das Tor zur Hölle aufgestoßen hat. In dieser Zeit hat sich das Antlitz der Welt vollständig verändert: Vampire, Hexen, Dä...
Zu kaufen unter der Bestellnummer US 81000 für 39,95 EUR (Details).
---
Eine mysteriöse Macht hat im Grenzgebiet zwischen dem Kurfürstentum Sachsen, dem Königreich Böhmen und dem Königreich Rabenschwarz ein Territorium für sich beansprucht und das Gebiet mit einer unüberwindlichen Dornenmauer abgeriegelt. Die Jäger werden im Städtchen Aue im Erzgebirge auf dies...
Zu kaufen unter der Bestellnummer US 81002 für 39,95 EUR (Details).
---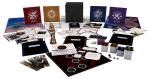 A roleplaying game of surreal fantasy, secrets, and magic that is truly magical. Wield fabulous powers as you uncover the secrets of reality itself.

Lorcan made a gun out of demon; its bullets only harm possessed people. On his quest to discover the long-forgotten (and perhaps forbidden) number b...
Zu kaufen unter der Bestellnummer MCG 0135 für 242,00 EUR (Details).
---
Warenkorb

Im Moment ist Ihr Warenkorb noch leer. Klicken Sie auf 'Kaufen' oder 'In den Warenkorb legen', um ihn zu füllen.
Newsletter
News