Kategorien
Service
Seitenabrufe

131109604 Seitenabrufe seit dem 30.06.2003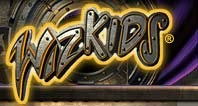 FanPro/WizKids
(auf das Logo klicken, um zur Firmen-Website zu gelangen)
Classic BattleTech Information

If you're new to Classic BattleTech, the following is for you!
Introductory Products - A list and summary description of the products recommended for new players.

Classic BattleTech Quick Start Rules - A condensed version of the game for new players who want to try out the game before purchase. Presents four 'mechs and simplified rules to give those new to Classic Battletech a taste of the full game. FREE to download from BattleCorps or this website!

Classic BattleTech Universe - This book introduces players to the fascinating and stunning universe of BattleTech. FREE to download from BattleCorps!

A Brief History of the Inner Sphere - Drop right into the BattleTech universe by reading this short history that takes you from the dawn of the 21st century, to the dawns of the 31st century.

BattleMech Technology - The BattleMech is the star of the show in Classic BattleTech. Find out what makes it tick and why you'd want to pilot one of these awesome war machines.

MechWarriors -Though BattleMechs may be the stars, with out you, the MechWarrior pilot, they'd just be a statue of so much high-tech gadgetry.

The Inner Sphere - The factions in the Classic BattleTech universe have always been the driving force behind the fan's dedication to the game. Whether it is the shogunate House Kurita, the merchant-princes of House Steiner, or the militaristic-feudal House Davion, new players can find a summarization of what these factions represent and before they even begin to play the game, start to define what star empire they'll fight for.

The Clans - Since their introduction the warrior-bred Clans have been perennial favorites with their genetic breeding programs and superior technology. If you've come to Classic BattleTech from the various MechWarrior computer games, then you'll already be familiar with these factions. Check them out and see if you've got what it takes to be a warrior of Kerensky.

Periphery States - For some players, neither the Great Houses, nor the Clans hold any interest. For those who enjoy the fringes and want to live where every day brings a new danger to overcome and a new secret to discover, the Periphery is for you!

Timeline - Once you've gotten a feel for the history of the Classic BattleTech universe in general and have found a faction that suits your tastes, feel free to jump into the minutia of a particular faction's history across a millennia.
Themenbezogene Links
Warenkorb

Im Moment ist Ihr Warenkorb noch leer. Klicken Sie auf 'Kaufen' oder 'In den Warenkorb legen', um ihn zu füllen.
Newsletter