Kategorien
Kataloge
Service
Seitenabrufe

125799946 Seitenabrufe seit dem 30.06.2003
Willkommen im Fantasy En'Counter! Im Augenblick bieten wir 43738 Produkte in 10 Kategorien an. Wir wünschen viel Spaß beim Stöbern und stehen natürlich gerne zur Verfügung!
---
Immer in Bereitschaft - auch am Samstag, Sonntag, Feiertag, mitten in der Nacht - egal ... aber bitte mit Termin! (Allgemein)

Wir sind immer voll im Einsatz und erreichbar!
Am Samstag, am Sonntag, am Feiertag und auch mitten in der Nacht - Egal! -
Jeder Termin ist möglich ...

Wir legen jedem der etwas bei uns abholt, auch noch ein "Extra" in Form eines kleinen Würfel Sets gratis dazu!

Egal was Ihr braucht um Eurem Spiel-Trieb zu frönen .....
Wir sind immer für euch da - Daher gilt weiter:
Auch ohne Ladenlokal ist jederzeit - also auch an Sonntagen, an Feiertagen oder auch mitten in der Nacht, ein Besuch möglich!
- nur ein TERMIN sollte unbedingt im neuen Lager vereinbart werden!
(dann aber gilt: 24 Stunden Service! / 7 Tage Woche!! / 365 Tage im Jahr!!!)

Bitte habt Verständnis dafür, dass ein Termin nur möglich ist, wenn vorab eine (vollkommen unverbindliche!) Ordermail eingegangen ist ....

Dazu einfach (wie gesagt - vollkommen unverbindlich!) den Warenkorb ordentlich voll machen, Wunschtermin mit angeben und die Bestätigung sowohl über die Verfügbarkeit der Artikel, wie auch des Termins abwarten - Dann klappt's auch!!

Immer für Euch da - Euer Fan'En Team
Tel: 0201 786877
oder: 0151 14233766
fanen@fanen.com
---

Feuer und Eis brechen über Terra Mystica herein und die angestammten Völker müssen sich auf noch mehr Konkurrenz einstellen: Yetis, die Meister der Macht, Frostfeen, die ihre Tempel verehren, Geweihte, deren ganzes Leben und Schaffen auf die Kulte ausgerichtet ist und die Drachenmeister, die alle...
Zu kaufen unter der Bestellnummer FSVG TM02 für 38,00 EUR (Details).
---
In Arle, einem kleinen Dorf in Ostfriesland, warten zahlreiche Aufgaben auf deine Familie: Zurückversetzt in die Zeit um 1800 sollen die Moore entwässert werden, die Ackerböden bestellt und Tiere gezüchtet werden. Entwickle das Handwerk im Dorfe und errichte die passenden Gebäude.

Arler Erde...
Zu kaufen unter der Bestellnummer FSVG AE01 für 54,00 EUR (Details).
---
"Spiele aus Timbuktu" ist wieder da!

Seit genau 25 Jahren erfindet Michael Schacht Spiele. Das Jubiläumsjahr nimmt er nun zum Anlass, um mal richtig zu feiern. Zu den Internationalen Spieletagen in Essen erschien ein Brettspiel aus gegegebenen Anlass, welches noch ein zweites Jubiläum feier...
Zu kaufen unter der Bestellnummer SaT 543-224 für 34,00 EUR (Details).
---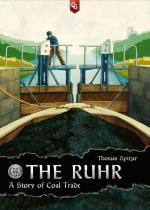 In The Ruhr: A Story of Coal Trade, the second game of Thomas Spitzer's historic coal trilogy, you are transported to the Ruhr region in the 18th century, at the beginning of the industrial revolution. Coal, after being discovered in Haspelknecht, is in high demand as cities and factories throughout...
Zu kaufen unter der Bestellnummer CAP 1021 für 48,00 EUR (Details).
---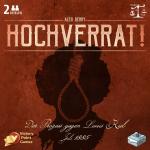 Die Westerweiterung Kanadas nahm einen anderen Verlauf als in den Vereinigten Staaten. Angeführt von überwiegend französisch-katholischen Pelzhändlern und Trappern drängten die kanadischen Siedler westwärts. Diese Pioniere heirateten die Ureinwohner und brachten einen neuen Menschenschlag und ...
Zu kaufen unter der Bestellnummer FTG 576-559 für 40,00 EUR (Details).
---
18.06.2018
Arcane Codex: Slatah - Die Blutelfen
(Detail)
[Unverbindlich vorbestellen!]
Board & Card Games: Tyler Sigman's Crows
(Detail)
[Unverbindlich vorbestellen!]
Brettspiele von A-M: Arler Erde
(Detail)
[Kaufen!]
Brettspiele von A-M: Arler Erde - Tee & Handel
(Detail)
[Kaufen!]
Brettspiele von N-Z: Terra Mystica - Feuer & Eis
(Detail)
[Kaufen!]
DC Comics Deck Building Game / DC Superhelden DBG: DC Comics Deck-Building Game - Crossover Pack 7 – New Gods
(Detail)
[Kaufen!]
DSA5 - Das Schwarze Auge: DSA5 - Aventurisches Kompendium 2 (Hardcover)
(Detail)
[Unverbindlich vorbestellen!]
Dungeon World: Dungeon World - Grauenfeld (dt.)
(Detail)
[Unverbindlich vorbestellen!]
Dungeons & Dragons 5th Edition (engl. & dt.): C07 Upon the Powder River -- 5th Edition Adventure
(Detail)
[Unverbindlich vorbestellen!]
Mutant Crawl Classics Role Playing Game : MCC #1 - Hive of the Overmind
(Detail)
[Unverbindlich vorbestellen!]
Mutant Crawl Classics Role Playing Game : MCC #2 - A Fallen Star for All
(Detail)
[Unverbindlich vorbestellen!]
Mutant Crawl Classics Role Playing Game : MCC #4 - Warlords of ATOZ
(Detail)
[Unverbindlich vorbestellen!]
Mutant Crawl Classics Role Playing Game : MCC #5 - Blessings of the Vile Brotherhood
(Detail)
[Unverbindlich vorbestellen!]
Mutant Crawl Classics Role Playing Game : MCC #6 - The Apocalypse Ark
(Detail)
[Unverbindlich vorbestellen!]
Mutant Crawl Classics Role Playing Game : MCC #7 - Reliquary of the Ancients
(Detail)
[Unverbindlich vorbestellen!]
Mutant Crawl Classics Role Playing Game : MCC #8 - The Data Orb of Metakind
(Detail)
[Unverbindlich vorbestellen!]
Mutant Crawl Classics Role Playing Game : MCC #9 - Evil of the Ancients
(Detail)
[Unverbindlich vorbestellen!]
Mutant Crawl Classics Role Playing Game : MCC 3# - Incursion of the Ultradimension
(Detail)
[Unverbindlich vorbestellen!]
Mutant Crawl Classics Role Playing Game : Mutant Crawl Classics Role Playing Game – Standard Edition
(Detail)
[Kaufen!]
Overlight: Overlight RPG
(Detail)
[Unverbindlich vorbestellen!]
Overlight: Overlight RPG - Dice Set
(Detail)
[Unverbindlich vorbestellen!]
Sword & Sorcery (engl. & dt.): Sword & Sorcery - Ghost Soul Hero Pack
(Detail)
[Kaufen!]
Sword & Sorcery (engl. & dt.): Sword & Sorcery - Hero Pack – Ryld Chaotic Bard / Lawful Blademaster
(Detail)
[Kaufen!]
Sword & Sorcery (engl. & dt.): Sword & Sorcery - Arcane Portal
(Detail)
[Kaufen!]
Sword & Sorcery (engl. & dt.): Sword & Sorcery - Darkness Falls
(Detail)
[Kaufen!]
Sword & Sorcery (engl. & dt.): Sword & Sorcery - Hero Pack – Morrigan Demon Huntress/Witch Huntress
(Detail)
[Kaufen!]
Warhammer Fantasy Roleplay 4th Edition: Warhammer Fantasy Roleplay Fourth Edition Collector's Limited Edition Rulebook
(Detail)
[Unverbindlich vorbestellen!]
Warhammer Fantasy Roleplay 4th Edition: Warhammer Fantasy Roleplay Rulebook
(Detail)
[Unverbindlich vorbestellen!]
Warhammer Fantasy Roleplay 4th Edition: Warhammer Fantasy Roleplay Starter Set
(Detail)
[Unverbindlich vorbestellen!]
15.06.2018
Board & Card Games: Senshi
(Detail)
[Unverbindlich vorbestellen!]
Legend of the Five Rings: Legend of the Five Rings Beginner Game
(Detail)
[Unverbindlich vorbestellen!]
Legend of the Five Rings: Legend of the Five Rings Core Rulebook
(Detail)
[Unverbindlich vorbestellen!]
Legend of the Five Rings: Legend of the Five Rings Game Master's Kit
(Detail)
[Unverbindlich vorbestellen!]
Star Wars: X-Wing, Second Edition (engl. & dt.): BTL-A4 Y-Wing Expansion Pack
(Detail)
[Unverbindlich vorbestellen!]
Star Wars: X-Wing, Second Edition (engl. & dt.): Fang Fighter Expansion Pack
(Detail)
[Unverbindlich vorbestellen!]
Star Wars: X-Wing, Second Edition (engl. & dt.): Galactic Empire Conversion Kit
(Detail)
[Unverbindlich vorbestellen!]
Star Wars: X-Wing, Second Edition (engl. & dt.): Lando's Millennium Falcon Expansion Pack
(Detail)
[Unverbindlich vorbestellen!]
Star Wars: X-Wing, Second Edition (engl. & dt.): Rebel Alliance Conversion Kit
(Detail)
[Unverbindlich vorbestellen!]
Star Wars: X-Wing, Second Edition (engl. & dt.): Scum and Villainy Conversion Kit
(Detail)
[Unverbindlich vorbestellen!]
Star Wars: X-Wing, Second Edition (engl. & dt.): Slave I Expansion Pack
(Detail)
[Unverbindlich vorbestellen!]
Star Wars: X-Wing, Second Edition (engl. & dt.): T-65 X-Wing Expansion Pack
(Detail)
[Unverbindlich vorbestellen!]
Star Wars: X-Wing, Second Edition (engl. & dt.): TIE Advanced x1 Expansion Pack
(Detail)
[Unverbindlich vorbestellen!]
Star Wars: X-Wing, Second Edition (engl. & dt.): TIE/ln Fighter Expansion Pack
(Detail)
[Unverbindlich vorbestellen!]
Star Wars: X-Wing, Second Edition (engl. & dt.): X-Wing Second Edition
(Detail)
[Unverbindlich vorbestellen!]
14.06.2018
4E GSL: Plague
(Detail)
[Kaufen!]
Computer Games: The Eye of Judgment Booster - - Biolith Rebellion 2 - Deutsche Karten zum PS3 Spiel
(Detail)
[Kaufen!]
D20: A Magical Society - Ecology and Culture
(Detail)
[Kaufen!]
Sailor Moon Collectiable Card Game : Sailor Moon CCG - Booster (11 cards) [1st/Premiere Edition]
(Detail)
[Kaufen!]
Sailor Moon Collectiable Card Game : Sailor Moon CCG - Booster Display (36 Booster with 11 cards) [1st/Premiere Edition]
(Detail)
[Kaufen!]
Sailor Moon Collectiable Card Game : Sailor Moon CCG - Sailor Jupiter Character Deck
(Detail)
[Kaufen!]
---
Warenkorb
Newsletter
News