Kategorien
Kataloge
Service
Seitenabrufe

130268688 Seitenabrufe seit dem 30.06.2003
Willkommen im Fantasy En'Counter! Im Augenblick bieten wir 45392 Produkte in 10 Kategorien an. Wir wünschen viel Spaß beim Stöbern und stehen natürlich gerne zur Verfügung!
---
Spiel '19 ... und wie immer sind wir mit dabei ! Messe Essen 24. bis 27. Oktober 2019 (english text below) (Allgemein)

(english Text version below)

Bald schon geht es wieder los - vier Tage Stress, Spaß und jede Menge "zu wenig Schlaf"! Wir entschuldigen uns schon mal vorab für alle Verspätungen beim Versand, beim Service und auch dafür, das wir vom Messe Donnerstag (24.10.) bis zum folgenden Dienstag (einschließlich) keine Besuchstermine im Lager vergeben können.

Die Internationalen Spieltage SPIEL '19 (24.10. - 27.10.18) - die weltweit größte Publikums Show für Spiele - bieten ihren Besuchern die einmalige Möglichkeit, sich umfassend über das gesamte nationale und internationale Spieleangebot zu informieren und dieses einem ausführlichen Test zu unterziehen. Nirgendwo sonst finden Sie die gesamte Spielszene so vollständig versammelt. Verlage, Autoren, Hersteller und natürlich Spieler treffen sich hier einmal im Jahr um Erfahrungen auszutauschen, sich über das Neueste zu informieren und ihre Produkte einer breiten Öffentlichkeit vorzustellen.

Auf einer Fläche von rund 44.100 qm werden Brettspiele aller Art, Kinder-, Gesellschafts-, Familien- und Erwachsenenspiele - sowie Strategie-, Post-, Abenteuer-, Fantasy-, Science-Fiction- und Computerspiele gezeigt. Natürlich fehlen auch die Klassiker Schach, Doppelkopf, Bridge, Go und Backgammon nicht.

Ausnahmslos alle Verlage laden an zahlreichen Tischen zum Mitspielen ein. Animateure erklären Unbekanntes; Wettbewerbe, Kurse und Turniere runden das Programm ab.

Die Internationalen Spieltage SPIEL '18 bieten Erwachsenen, Jugendlichen und Kindern eine kommunikative Erlebniswelt. Hier können Sie sich kurz vor Weihnachten umfassend über das gesamte Spieleangebot informieren und bei Gefallen auch direkt kaufen.

Auch wir sind wieder mit unserem vollen Sortiment dabei - Halle 2 / Stand C120 - wie jedes Jahr zusammen mit CHESSEX - You can never have too much dice!

Nochmal: Das Lager bleibt während dieser Zeit geschlossen.
Also schaut mal am Stand vorbei und kauft kräftig ein!

Wir sehen uns - Glück Auf! Euer Fan'En Team - Immer für Euch da ....

Soon it starts again - four days of stress, fun and a lot of "too little
sleep"! We apologize in advance for all delays in shipping, service and
also for the fact that we can not allocate, from Thursday
(24.10.) To the following Tuesday (inclusive), appointments in
the Warehouse.

The International Gamedays SPIEL'18 (24/10 - 27/10/19) - the world's
largest public show for games - offer their visitors the unique
opportunity to inform themselves comprehensively about the entire
national and international range of games and submit them to a detailed
test. Nowhere else will you find the entire game scene so fully
assembled. Publishers, authors, manufacturers and of course players meet
here once a year to exchange experiences, to find out about the latest
developments and to present their products to a broad public.

On an area of ??approximately 44,100 square meters board games of all
kinds, children, social, family and adult games - as well as strategy,
post, adventure, fantasy, science fiction and computer games are shown.

Without exception, all publishers invite you to play along at numerous
tables. Entertainers explain the unknown; Competitions, courses and
tournaments complete the program.

The International Gamedays SPIEL'19 offer adults, adolescents and
children a communicative world of experience. Here you can inform
yourself shortly before Christmas comprehensively about the entire range
of games and if you like to buy directly.

Also we are back with our full assortment - Hall 2 / Stand C120 - as
every year together with CHESSEX - You can never have too much dice!

Again: The Warehouse remains closed during this time.
So stop by the booth and buy a lot!

See you - happiness! Your Fan'En Team - Always there for you ....

--

Glück Auf! & Cheers - Holger Willert / New Fan'En

Non quaerendo sed inveniendo
(Je ne cherche pas. Je trouve.)
---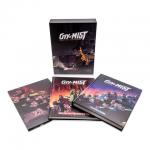 "Hit the rainy streets of an enigmatic metropolis as a modern-day legend in search for the truth".
Contents:

City of Mist Players Guide Everything essential for players of City of Mist, both old and new - an introduction to the setting, tools for creating unique modern fantasy characters, ...
Zu kaufen unter der Bestellnummer MOD 51758 für 118,00 EUR (Details).
---
Your ancestors survived thanks to luck, preparation or pure grit. Now it's time to leave their shelters and start rebuilding the world. But the wasteland has other inhabitants: families with different philosophies and abilities, secretive factions with their own agendas, and bizarre monsters stalk...
Zu kaufen unter der Bestellnummer MOD 51227 für 46,00 EUR (Details).
---
Erinnerungen an Vergangenes, die besser im Dunkel geblieben wären …
Eine schreckenerregende Kampagne vor dem Hintergrund des Zweiten Weltkriegs für Cthulhu und Cthulhu 7.
Entdeckt die geheime Geschichte der frühesten Kriegstage: Eine Geschichte von Mord, Gier und Hinterlist, wo verbotenes Wis...
Zu kaufen unter der Bestellnummer UWV 7108 für 39,95 EUR (Details).
---
When humanity falls, four powerful industrial and financial dynasties form a covenant called Elysium, after the meadows of eternal Spring of Greek mythology. Deep in the bedrock, they build the enclave named Elysium I, designed to weather the long atomic winter. Now, generations later, Elysium I is ...
Zu kaufen unter der Bestellnummer MPE 51003 für 58,00 EUR (Details).
---
10/07/2153, 0617. All human personnel is to be evacuated immediately from Production Facility Mechatron-7, on direct orders from the Noatun Central Command. Control over Mechatron-7 is to be temporarily transferred to A.I. construct NODOS, to secure continued production.

In a huge facility hidden...
Zu kaufen unter der Bestellnummer MPE 51000 für 58,00 EUR (Details).
---
---

The dice can be cruel and a critical fumble can spell doom for even the hardiest adventurer. But automatically failing to attack a target, to resist the effects of a magical curse, or overcome the symptoms of a ravenous disease isn't much fun. Instead, you can add memorable flavor and additional m...
Zu kaufen unter der Bestellnummer PZP2 2206 für 16,00 EUR (Details).
---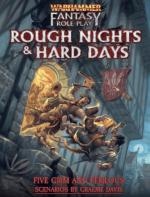 Rough Nights & Hard Days offers five interlinked scenarios for Warhammer Fantasy Roleplay written by series veteran, Graeme Davis. These can be played as stand-alone adventures, or combined into an epic five-part campaign, where the Characters become embroiled in a bitter dispute between two of the ...
Zu kaufen unter der Bestellnummer CU7 2403 für 44,00 EUR (Details).
---
Anmerkungen:
Sonderangebot
The perfect introduction to Warhammer Fantasy Roleplay, this boxed set includes an introductory scenario designed to teach you how to play, beautiful character portfolios, a guide to the town of Ubersreik and two ten-sided dice.
Zu kaufen unter der Bestellnummer CU7 2401 für 34,00 EUR (Details).
---
Wie bereits in dem begehrten Terror Americana bilden die USA erneut die Bühne für zwei Trips ins Grauen:
Nicht alles, was leuchtet, ist ein Silberstreifen am Horizont.

Das einsteigerfreundliche Totes Licht kommt sofort zur Sache und bietet die Gelegenheit, im malerischen Lovecraft Country vorz...
Zu kaufen unter der Bestellnummer PPV 40057G für 9,95 EUR (Details).
---
Unzählige Zauber mit schrecklichen Konsequenzen!
Die Zusammenfassung von über 30 Jahren Cthulhu-Magie! Dieser Foliant enthält etwa 600 unterschiedlichste Zauber. Einige sind neu, die meisten wurden jedoch aus den in über 30 Jahren veröffentlichten Quellenbänden und Abenteuern für Cthulhu zu...
Zu kaufen unter der Bestellnummer PPV 42064G für 29,95 EUR (Details).
---
Anmerkungen:
Artikel ist bereits auf dem Weg zu uns
Note on 2nd Printing: This will be identical to the 1st Printing, except that any known errata will be corrected.

Navajo Wars is a one to two-player game which covers the amazing history of the Navajo people from their first encounters with European colonists until their brutal subjugation by th...
Zu kaufen unter der Bestellnummer GMT 1311-19 für 70,00 EUR (Details).
---
The Kurross Empire emerged from the deep, endless pool of space, dark and undetectable. They crushed Earth's paltry fleet within a week, and broke through the great planetary shield that protected the surface. Bright blue oceans turned to an irradiated wasteland as they bombarded the planet, shred...
Zu kaufen unter der Bestellnummer RRG EV02 für 80,00 EUR (Details).
---
Eiserne Flammen
von Anni Dürr, Julian Härtl und David Lukaßen

Yol-Ghurmak. Ein Name, der Aventuriern das Blut gefrieren lässt. Kaum ein Ort ist den Niederhöllen so nah. Unter dem Aschehimmel lauern die qualmenden Schlote der Dämonenverehrer. Widernatürliche Kreaturen und skrupellose Mensc...
Zu kaufen unter der Bestellnummer ULI 25346G für 24,95 EUR (Details).
---
This comprehensive 640-page guide to the Pathfinder roleplaying game provides everything you need to set out on a world of limitless fantasy adventure! Choose from ancestries like elf, human, and goblin and classes like alchemist, fighter, and sorcerer to create a hero of your own design destined to...
Zu kaufen unter der Bestellnummer PZP2 2101 für 70,00 EUR (Details).
---
The Tyrant's Grasp Adventure Path reaches its world-shaping conclusion! The heroes learn that the keys to stopping Tar-Baphon's deadly Radiant Fire are the shards of the Shattered Shield still lodged in their souls—the only things dangling their lives above the grasp of the Boneyard. The heroes re...
Zu kaufen unter der Bestellnummer PZP 90144 für 28,00 EUR (Details).
---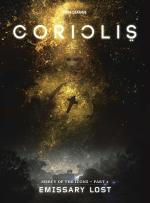 Street reporters call it The Mysticides. Scores of mystics have been found dead, or disappeared without a trace. Who is hunting the mystics of Coriolis? And why? When a friend of the player characters disappears, it becomes personal. Can they solve the mystery before it is too late?

Emissary Lost...
Zu kaufen unter der Bestellnummer MOD 51597 für 46,00 EUR (Details).
---
Welcome back to the world of the Loop – things are different now. Simon Stålenhag's paintings of Swedish retro futuristic suburbia, populated by fantastic machines and strange creatures, have won global acclaim. The award-winning Tales from the Loop tabletop roleplaying game was released in 20...
Zu kaufen unter der Bestellnummer MOD 51950 für 52,00 EUR (Details).
---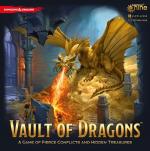 In Vault of Dragons, players take the role of unsavory factions from the streets of Waterdeep, factions who have heard rumors of a hidden vault of gold under the city and are determined to locate it first.

In the game, players send followers to locations in Waterdeep to uncover rumors and treasur...
Zu kaufen unter der Bestellnummer GFN 494503 für 54,00 EUR (Details).
---
Erkunde die Galaxis!
Starte mit der Starfinder-Einsteigerbox in ein aufregendes Universum der Science-Fantasy-Abenteuer! Erschaffe deinen eigenen futuristischen Helden und erlebe herausfordernde Abenteuer und actiongeladene Kämpfe gegen gefährliche Gegner! Mit ihren vereinfachten Regeln ist diese...
Zu kaufen unter der Bestellnummer ULI 56038 für 39,95 EUR (Details).
---
The Fallout: Wasteland Warfare roleplaying game builds on the narrative wargame experience of the tabletop miniatures game and will include new rules for character creation and creating adventures in the wasteland. Delve into abandoned Vaults, ruined cities, strange facilities, and antiquated milita...
Zu kaufen unter der Bestellnummer MOD 51800 für 54,00 EUR (Details).
---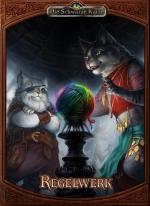 Die Schwarze Katze ist ein ganz besonderes Fantasy-Rollenspiel, in dem du und deine Freunde die Hauptrollen übernehmt: Katzen! Von Bewusstsein und Wissen beseelt und bereit für Abenteuer! Durchstreife verborgen vor den Blicken der Menschen die alte Hafenstadt Havena an der Westküste Aventuriens. ...
Zu kaufen unter der Bestellnummer ULI 27001 für 39,95 EUR (Details).
---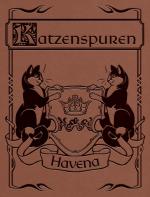 Aus den abenteuerlichen Geschichten des Toller Deinsmeins. Alles wahr! Nichts erlogen. So gehört an einem Abend im Spätherbst in Unterfluren.

Nicht so ungeduldig! Eure Mama kämpft gerade in Mutter Mikas Wurfhöhle darum, eine neue starke Generation Drei-Häuser-Katzen auf die Welt zu bringen, ...
Zu kaufen unter der Bestellnummer ULI 27023 für 14,95 EUR (Details).
---
Warenkorb
Newsletter
News