Kategorien
Kataloge
Service
Seitenabrufe

157882518 Seitenabrufe seit dem 30.06.2003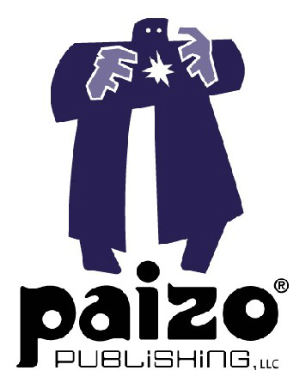 Paizo Publishing
(auf das Logo klicken, um zur Firmen-Website zu gelangen)
Paizo Inc. is a leading publisher of fantasy roleplaying games, accessories, board games, and novels. Paizo's Pathfinder® Roleplaying Game, the result of the largest open playtest in the history of tabletop gaming, is currently the best-selling tabletop roleplaying game in hobby stores. Pathfinder Adventure Path is the most popular and best-selling monthly product in the tabletop RPG industry. Paizo.com is the leading online hobby retail store, offering tens of thousands of products from a variety of publishers to customers all over the world. In the ten years since its founding, Paizo Publishing has received more than 50 major awards and has grown to become one of the most influential companies in the hobby games industry.
Hauptproduktlinien

The official Magazine to everything D&D, containing Play Aids, new Rules, feats, Prestige Classes and much more !
Appearing monthly this magazine is a must have for any serious D&D Player.

Nebenproduktlinien

Goblins shows what its like to be a goblin in a Dungeons & Dragons-like world. This anthology of comics is 137 pages long, including never-before-seen bonus comics, The Origin of Forgath's Helmet and "Not Walter" Screams Like a Little Girl. Goblins: Book One shows the transition of the goblin protagonists from hilarious buffoons doomed to become adventurer fodder to becoming heroes themselves. Complete with inside jokes poking fun at the antics of role-players and gamers

Six brave stick-figure adventurers embark on a semi-epic journey to overcome hardship, villainy, and the rules of their favorite fantasy roleplaying...

Comic Strips found in Paizo's Dungeon and Dragon Magazines, now on their own !

Zogonia, Downer and more to come...

Each month, Pathfinder Maps give you full color, miniatures-scale play surfaces, rendered by some of the best cartographers in the industry, to spice up your next adventure. Releases will alternate between Pathfinder Map Packs, which contain 18 themed full-color 5 x 8-inch map tiles you can rearrange to fit your encounter, and Pathfinder Flip-Mats, which are double-sided gaming mats you can draw on with virtually any marker.

Nebenproduktlinien

Enter a world of adventure with the Pathfinder Adventure Card Game, a cooperative game for 1 to 4 players. Each player has a unique character composed of a deck of cards and a set of stats. Roleplayers will find the stats very familiar—characters have classes such as fighter, wizard, and rogue, as well as numbers that define strength, dexterity, intelligence, etc. You'll improve your character by acquiring new items, allies, spells, and weapons as you explore and overcome challenges; over time, you'll be able to customize your deck to better suit your own individual vision of your character.

Your adventure begins with a Base Set containing nearly 500 cards, including the first chapter of an Adventure Path that offers your characters interesting locations to explore, monsters to fight, and villains to hunt down, as well as piles of weapons, spells, armor, loot, and everything you need to build you own unique character deck.

Expand your party with the Expansion Deck, which offers additional character classes along with more equipment and other options for customizing your character, and lets you bring up to 6 players to the gaming table!

The adventure continues in bimonthly Adventure Decks containing 110 cards that extend the Adventure Path begun in the Base Set, adding new scenarios, monsters, villains, weapons, spells, allies, loot, and more!

Nebenproduktlinie

Pathfinder Adventure Path is the premiere monthly resource for your fantasy roleplaying campaign. Every month, the Pathfinder Adventure Path brings you a new installment of a 6-part series of interconnected quests that together create a fully developed plot of sweeping scale and epic challenges.

In each volume of the Pathfinder Adventure Path, you'll meet nuanced characters, visit fantastical locations, face deadly foes, and learn ever more about nefarious plots and an incredible world forged by some of the most popular authors and artists in fantasy gaming. What's more, each Adventure Path also comes complete with new monsters, detailed supplementary chapters on important topics and locations, and fiction in the Pathfinder's Journal—everything you need to make your campaign rich, detailed, and engaging.

With two complete campaigns every year, Pathfinder Adventure Path offers a diverse and ever-growing catalogue of themes, challenges, and play experiences.

Nebenproduktlinien

Big Finish and Paizo have teamed up to bring you Pathfinder Legends, audio series episodes that follow the adventures of the iconic Pathfinder Roleplaying Game characters. Each audio adventure series contains six episodes following one of the Pathfinder Adventure Paths. Each of these episodes features a cast of professional actors, sound effects, and music that immerse you into the dangerous and exciting world of Pathfinder!

Nebenproduktlinien

Draw your sword and charge forth into a world of adventure with Pathfinder Tales, official novels and serial web fiction that further explore the fascinating world of the Pathfinder Roleplaying Game. Within these pages, the fantastical world of Golarion comes to life as never before, exploding with wild tales of sword and sorcery from the genre's master storytellers.

Pathfinder Tales novels are standalone adventures written by some of fantasy's bestselling authors, all set in the lovingly detailed world of Golarion. Here are the same nations, characters, and monsters that have inspired gamers around the world to new heights of imagination. Now journey through Golarion as you never have before, through the eyes of canny warriors and flippant scoundrels, and see firsthand why the Pathfinder world has twice earned the prestigious ENnie Award for Best Campaign Setting.

Each Pathfinder Tales novel comes in mass-market paperback format, with new volumes released roughly every three months. You can subscribe to the line to have each volume delivered directly to you, ensuring that you always remain on top of the latest developments in the world of Pathfinder.

Planet Stories™ presents classic fantasy, science fiction, and science fantasy novels and short story collections to a generation of new readers and lifelong fans. Unforgettable tales from acknowledged masters like Michael Moorcock, Leigh Brackett, C.L. Moore, and Henry Kuttner stand side by side with lesser known but no less worthy yarns from tomorrow's superstars. Introductions from popular modern authors like Joe R. Lansdale, Ben Bova, and Michael Moorcock provide amusing and informative entry points to each book. With new releases every month, Planet Stories promises a master class in the genre aimed at building the greatest fantasy and science fiction library ever assembled.




The world above ground has become uninhabitable, humankind was forced to flee from the surface and find shelter in the seas. They are now trying to survive in this hostile environment, dealing with the species' degeneration, perpetual wars, monsters and very limited resources. And there is this great mystery that prevails: the Polaris Effect...

From the publishers of the Pathfinder RPG's French edition comes POLARIS, an exciting post-apocalyptic sci-fi RPG, now in English!

Take your favorite fantasy RPG to the stars! Set thousands of years in Pathfinder's future, Starfinder is a stand-alone roleplaying game evolved from the Pathfinder rules and designed to bring you a whole new universe of science fantasy adventures. Play alien races both new and familiar as you explore the mysteries of a weird galaxy. Will you be an android assassin fulfilling corporate contracts, or a plucky ratfolk mechanic? A spellhacking lashunta technomancer, or a rakish human pilot? Uncountable worlds are waiting for you and your intrepid crew!

The Starfinder line will include both a hardcover core rulebook and key hardcover rules supplements, as well as a Starfinder Adventure Path that provides you with epic campaigns, expanded rules elements, and new monsters to battle. Best of all, Starfinder is designed to integrate easily with the Pathfinder roleplaying game, meaning your power-armored marine can still go toe to toe with orcs and dragons. So what are you waiting for? The galaxy needs you!

Nebenproduktlinien

Undefeated™, the latest publication from Paizo Publishing, will uncover what's new and hot in the gaming industry, and give players the winning edge with a wealth of tips and strategies in every issue.

"There has never been a hobby game magazine like Undefeated before," said Johnny Wilson, President and Publisher at Paizo, "with tactics and tricks presented with an electronic game magazine sensibility—more visually appealing, and much more focused on winning. The publication is designed to help our readers find the best tactics for both the newest games, and their old favorites, too."

"We noticed that there were not enough resources out there for many kinds of gamers," said Lisa Stevens, CEO of Paizo. "There has been a real need for a magazine that covers the large non-roleplaying segment of the industry."

Wilson described the games covered in Undefeated as "games you can win." Miniatures, trading card games, board games, other card games—all will get thorough coverage in the new magazine. The presentation, said Wilson, will be colorful and graphic, in a form that's both useful and fun to read.

"Undefeated will be of the same high quality as DRAGON® and DUNGEON/POLYHEDRON®," added Wilson. The two leading roleplaying magazines are also published by Paizo.


Warenkorb

Im Moment ist Ihr Warenkorb noch leer. Klicken Sie auf 'Kaufen' oder 'In den Warenkorb legen', um ihn zu füllen.
Newsletter
News