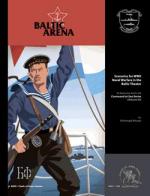 Anmerkungen:
Auslaufmodell (keine Nachbestellungen mehr möglich)
Baltic Arena covers the forgotten sea of World War Two naval engagements. It's
128 pages contain 13 scenarios, from submarine attacks, convoy actions,
ambushes, night surface actions, and air and surface combinations. Each
scenario has its own detailed map. There are 11 supporting articles coveri...
Zu kaufen unter der Bestellnummer COA 0601 für 28,00 EUR (Details).