Kategorien
Kataloge
Service
Seitenabrufe

104018228 Seitenabrufe seit dem 30.06.2003



Willkommen im Fantasy En'Counter!

Im Augenblick bieten wir 37070 Produkte in 10 Kategorien an. Wir wünschen viel Spaß beim Stöbern und stehen natürlich gerne zur Verfügung!
---
Immer in Bereitschaft! (Allgemein)

Egal was Ihr braucht um Eurem Spiel-Trieb zu frönen .....

Wir sind (wieder) für euch da, jetzt wo Deutschland raus aus der Fußball WM ist ;-]

Dann gilt auch wieder:
Auch ohne Ladenlokal ist jederzeit - also auch an Sonntagen, an Feiertagen oder auch mitten in der Nacht, ein Besuch möglich!
- nur ein Termin sollte unbedingt im neuen Lager vereinbart werden!
(24 Stunden Service! / 7 Tage Woche!! / 365 Tage im Jahr!!!)

Bitte habt Verständnis dafür, dass ein Termin nur möglich ist, wenn vorab eine (vollkommen unverbindliche!) Ordermail eingegangen ist!

Dazu einfach (wie gesagt - vollkommen unverbindlich!) den Warenkorb ordentlich voll machen, Wunschtermin mit angeben und die Bestätigung sowohl für die Verfügbarkeit der Artikel, wie auch des Termins abwarten - Dann klappt's!!

Immer für Euch da - Euer Fan'En Team
Tel: 0049 201 786877
oder: 0151 14233766
fanen@fanen.com
---
Kaosball is a new kind of fantasy sports game, combining rugby-style passing finesse and first person shooter domination-style scoring. The result is a tense game of skill, bluffing, luck, and lethal brutality like you've never played before!

Brought to you by acclaimed designer Eric M. Lang, Kao...
Zu kaufen unter der Bestellnummer CMoN 0002 für 110,00 EUR (Details).
---
Thunder Alley is a stock car racing game for 2-7 players with the feel and flexibility of a card-driven simulation. Players controls not one car, but a team of 3-6 cars. Each race is not only a run for the checkered flag but an effort to maximize the score for every car on your team. Winning is impo...
Zu kaufen unter der Bestellnummer GMT 1405 für 64,00 EUR (Details).
---
The Mighty Endeavor is both an updated version (with errata corrected, a couple of counters added, and other counters made to conform to the Expansion) covering the Western Front from the D-Day landings until the end of April 1945 and an expansion to the original game that adds the Eastern Front fro...
Zu kaufen unter der Bestellnummer GAM 5-17 für 58,00 EUR (Details).
---
Anmerkungen:
Auslaufmodell (keine Nachbestellungen mehr möglich)
Myth is a fully co-operative fantasy game. Players take on the role of one of 5 different heroes working together to defeat the Darkness. Each hero has a different skill set which represented by a unique deck of cards. Players spend Action Points by using cards. Once a certain amount of Action Point...
Zu kaufen unter der Bestellnummer MCX 5901 für 90,00 EUR (Details).
---
Now you can play the bad guys! Standalone game!

The Legendary universe gets flipped upside down in Legendary: Marvel Villains Deck Building Game, and you can now play as villains trying to take out the heroes protecting the city!

The goal of the game remains roughly the same as in the first L...
Zu kaufen unter der Bestellnummer UDE LMDB05 für 60,00 EUR (Details).
---
---
Link des Tages
Wollt Ihr eure Site auch als Link anmelden? Und hier sind noch mehr Links.
---
Mound Builders, from Wes Erni and Ben Madison, is a solitaire States of SiegeTM game where you represent the two largest pre-Columbian Indian "mound builder" cultures that dominated eastern North America from before the time of Christ until the coming of the European colonists in the 17th century. Y...
Zu kaufen unter der Bestellnummer VPG MB01 für 34,00 EUR (Details).
---
Will you save the Earth or conquer it? From his stronghold on Apokolips, Darkseid is moving his forces into position, preparing to seize control of the planet! Only the Justice League stands between him and total global dominion! Will they be able to defend the planet, or will it fall to the mercile...
Zu kaufen unter der Bestellnummer WZK 71141 für 58,00 EUR (Details).
---
Ein Jahr ist es her, dass die erste Expeditionsflotte der Horasier auf dem legendären Südkontinent Uthuria angelandet ist. Ein Jahr, in dem kaum Neuigkeiten und Schätze von fremden Gestaden das Liebliche Feld erreichten. Aber jetzt ist es an der Zeit, das zu ändern!

Die Helden begeben sich als Te...
Zu kaufen unter der Bestellnummer ULI 13123 für 22,95 EUR (Details).
---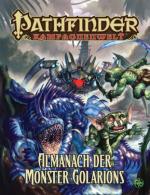 Kreaturen über Kreaturen! Dieses Buch enthält Dutzende neuer Monsteraus der Region der Inneren See, die alle speziell für diePathfinder-Kampagnenwelt entwickelt wurden. Manche, wie die der Göttin derTräume dienenden Sternenmonarchen oder die Zahnradleute Numerias, wurden schonöfter in Pathfinder-Kam...
Zu kaufen unter der Bestellnummer ULI 51031 für 19,95 EUR (Details).
---
Die Toten werden auferstehen Tief unter der gesetzlosen Stadt Kaer Maga hat jemand (oder etwas) damit begonnen, Leichen aus der angesehensten Begräbnisstätte der Stadt, dem Gottesmund-Beinhaus, zu stehlen. Pharasmas Kleriker hüten diese Grüfte und fürchten das schlimmste. Sie bitten heimlich um Hilf...
Zu kaufen unter der Bestellnummer ULI 53050 für 12,95 EUR (Details).
---
Als einer der drei Monde über Lorakis barst, blickten die Menschen, Alben, Zwerge, Gnome und Vargen furchtsam gen Himmel, um das unheimliche Schauspiel zu betrachten. Zu diesem Zeitpunkt ahnte noch niemand, dass unter dem Splittermond eine neue Ära anbrechen sollte, die sie von den Ketten ihrer Drac...
Zu kaufen unter der Bestellnummer UWV 1000 für 39,95 EUR (Details).
---
Warenkorb

Im Moment ist Ihr Warenkorb noch leer. Klicken Sie auf 'Kaufen' oder 'In den Warenkorb legen', um ihn zu füllen.
News