Kategorien
Kataloge
Service
Seitenabrufe

114316535 Seitenabrufe seit dem 30.06.2003



Willkommen im Fantasy En'Counter!

Im Augenblick bieten wir 41033 Produkte in 10 Kategorien an. Wir wünschen viel Spaß beim Stöbern und stehen natürlich gerne zur Verfügung!
---
Elfia - auf dem Schloss zu ARCEN bei Venlo am 24. & 25. September 2016 (Allgemein)

Egal, ob man sich lieber in eine Figur aus Fantasy, Comic, Science Fiction, Steampunk, Anime oder Manga verwandelt; Elfia bietet Fans von Verkleidungen, Cosplay und Fantasy-Rollenspielen genau den richtigen Rahmen und zahlreiche Möglichkeiten. Direkt an der deutsch-niederländischen Grenze bei Venlo lockt das Festival bereits seit 2009 Tausende Besucher in phantasievollen und kreativen Verkleidungen aus Deutschland, der Niederlande und Belgien nach Arcen. Das diesjährige Motto 'Time & Space' verspricht wieder eine Vielfalt an Veranstaltungen und beeindruckende Kostüme.

Elfia ist mit über 180 Acts und Tausenden kostümierten Besuchern das größte Fantasy Festival Europas. Hier können Teilnehmer und Besucher ihrer Phantasie freien Lauf lassen und mit schrillen, elfenhaften oder gar düsteren Kostümen überraschen. Ob verkleidet oder nicht; jeder Besucher genießt es, die zahlreichen und oft aufwendigen Fantasy Kostüme zu bestaunen. Bei der traditionellen Kostümparade wetteifern die schönsten und schrillsten Verkleidungen um Preise in verschiedenen Kategorien.

Das Festival bietet mit der traumhaften Umgebung nicht nur eine herrlich Bühne für all die ausgefallenen Fantasy Kostüme, sondern auch die Möglichkeit, die Rolle zu spielen. Gelegenheiten bieten sich bei Elfia Arcen genug: So können Rollenspiel-begeisterte Besucher im LARP-Kampf (live Rollenspiel) aktiv mitspielen, die Soldaten in der 'Zombie Nerf Mission' unterstützen oder während des Workshops MaGNuM das Schwertkämpfen erlernen.
Auch Steampunk-Fans kommen bei Elfia auf ihre Kosten, so etwa im live Rollenspiel 'ODC's magische Welt' oder am Clockwork Carrousel, bei der die Besucher auf einer Reise durch die Zeit an zahlreichen Shows, Workshops, Wettbewerben und sogar einem richtigen Teapot Race teilnehmen können. Eine stilechte Steampunk Tea Party darf natürlich auch nicht fehlen!

Für Kinder gibt es ebenfalls zahlreiche Mitmach-Aktivitäten: ein Ritterturnier, bei dem man ein echter Ritter werden kann, ein Hobbit-Zeltlager, bei dem man in einer sicheren Umgebung das live Rollenspiel kennenlernt oder sich kostümieren und schminken lassen kann. Geschichtenerzähler, Feuerspucker, Zauberer und die Greifvogelshow machen den Tag für große und kleine Besucher zu einem unvergesslichen Erlebnis.
Musikalisch bietet das Festival mit zwei Bühnenstandorten und verschiedenen Walking Acts eine bunte Mischung von Folk, mittelalterlicher Musik, Sambaklängen, Gothic- und Rockmusik.

Natürlich sind wir, wie schon seit der ersten 'ELFIA' auf ARCEN, mit dabei!
Wir würden uns freuen auch ein paar D-Länder auf der Veranstaltung zu treffen!

Tot ziens! Euer New Fan'En Team ... immer für Euch da !-]
Glück Auf! - Holger & Stefan
Immer in Bereitschaft ... aber bitte mit Termin! (Allgemein)

Egal was Ihr braucht um Eurem Spiel-Trieb zu frönen .....

Wir sind immer für euch da - Daher gilt weiter:

Auch ohne Ladenlokal ist jederzeit - also auch an Sonntagen, an Feiertagen oder auch mitten in der Nacht, ein Besuch möglich!
- nur ein TERMIN sollte unbedingt im neuen Lager vereinbart werden!
(dann aber gilt: 24 Stunden Service! / 7 Tage Woche!! / 365 Tage im Jahr!!!)

Bitte habt Verständnis dafür, dass ein Termin nur möglich ist, wenn vorab eine (vollkommen unverbindliche!) Ordermail eingegangen ist ....

Dazu einfach (wie gesagt - vollkommen unverbindlich!) den Warenkorb ordentlich voll machen, Wunschtermin mit angeben und die Bestätigung sowohl über die Verfügbarkeit der Artikel, wie auch des Termins abwarten - Dann klappt's auch!!

Immer für Euch da - Euer Fan'En Team
Tel: 0049 201 786877
oder: 0151 14233766
fanen@fanen.com
---
October War is a wargame of the 1973 Arab-Israeli War. There are two Theaters of Operation: Sinai and Golan, both portrayed as a point to point system (since most of the major actions were fought over key points or lines of communications). There are two players in the game, one commanding the Israe...
Zu kaufen unter der Bestellnummer DCG MoW25 für 60,00 EUR (Details).
---
Ob dies eine Option bezüglich Erdogan wäre?

Operation Gertrud: The German invasion of Turkey is a speculative two-player wargame about a German invasion of Turkey during the Second World War. The historical course of events during World War II precluded any likelihood that the Germans would invad...
Zu kaufen unter der Bestellnummer DCG WaW49 für 38,00 EUR (Details).
---
Monsters & Animals is an excellent sourcebook for the Palladium RPG, Rifts, Heroes Unlimited, and Beyond the Supernatural, or any fantasy game. Most of its 90 monsters are new and original, not the usual fare of typical monsters from myth. Many, like the Bearman, Coyle, Endroth, giant Rahu-man, Ratl...
Zu kaufen unter der Bestellnummer PLB 472 für 18,00 EUR (Details).
---
The Shufflebuilding Game of Arena Combat.
Choose a Class… Choose a Class…
Shuffle! … Battle!
Which character do you want to battle with?
Maybe something classic like the Human Paladin or perhaps something more off-the-wall like the Goblin Druid? Each Class/Race combo creates a unique character w...
Zu kaufen unter der Bestellnummer AEG 6201 für 30,00 EUR (Details).
---
1918 saw great changes in the warfare of the Western Front. Russia pulled out of the war, freeing thousands more German troops to push the Allies back huge distances. The Allied counteroffensives, with their new tanks and evolving tactics, forced the Germans back towards their own borders and defeat...
Zu kaufen unter der Bestellnummer BML FW904 für 20,00 EUR (Details).
---
---
Link des Tages
Wollt Ihr eure Site auch als Link anmelden? Und hier sind noch mehr Links.
---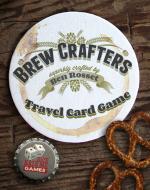 In Brew Crafters: The Travel Card Game, you've opened your own brewery and are competing with other brewers in town to be named the Brew Crafter of your city. You'll build your brewery by installing equipment and hiring workers, and then get to work brewing your beer! The player that earns the most ...
Zu kaufen unter der Bestellnummer GTG BCTTCG01 für 12,00 EUR (Details).
---
Schrödinger's Cats is a pseudo-scientific card game of strategic uncertainty for 2-6 players. A fast, fun game of bluffing, deduction, and cute cat pictures!

Uncertainty didn't kill the cat, but that doesn't mean it's not dead. Dr. Erwin Schrödinger and Werner Heisenberg taught us that. We've all...
Zu kaufen unter der Bestellnummer 9LG 2300 für 20,00 EUR (Details).
---
As a giant airship travels to various far-flung locales, rival gangs compete to pull off daring heists. Your job is to recruit various skilled criminals to join your gang as you plan to take down fortified locations and steal the loot guarded within. You may also complete smaller jobs on the airship...
Zu kaufen unter der Bestellnummer GAS SR01 für 64,00 EUR (Details).
---
Anmerkungen:
Artikel ist bereits auf dem Weg zu uns
Kill Doctor Lucky was the very first Cheapass Game, a "pre-mystery" game in which the goal is explained in the title. Every player is a murderer visiting Lucky Mansion, and the first player to kill Doctor Lucky wins. But he's not called "Doctor Lucky" for nothing: he's notoriously hard to kill.
Thi...
Zu kaufen unter der Bestellnummer CAG 00230 für 40,00 EUR (Details).
---
In Salvation Road, players control 4 to 8 characters struggling to survive in a barren wasteland. A set of Heroes, exceptional individuals, are holed up in a barricaded Compound, protecting a group of young, old, and wounded Survivors. The desert around them is filled with the shattered husks of bu...
Zu kaufen unter der Bestellnummer VRG SR004 für 56,00 EUR (Details).
---
ROUND 1. GET READY. FIGHT! EXCEED brings to life the speed, tactics, and variety of high-stakes fighting action. Choose your fighter and enter the arena! There are no packs to open or rares to chase–get everything you need to play right here! Bring your best to the battlefield with four new fight...
Zu kaufen unter der Bestellnummer L9G EXRH01 für 26,00 EUR (Details).
---
Defend New France in this solitaire States of SiegeTM game of the French and Indian War. Now in an upgraded boxed edition, which includes the first edition content along with the expansion kit!

Created by veteran designer Joe Miranda, Empires in America is a States of SiegeTM on The French and In...
Zu kaufen unter der Bestellnummer VPG EoA01 für 38,00 EUR (Details).
---
Enter a fantastic world of adventure!

The Pathfinder Roleplaying Game puts you in the role of a brave adventurer fighting to survive in a world beset by magic and evil. Will you cut your way through monster-filled ruins and cities rife with political intrigue to emerge as a famous hero laden with...
Zu kaufen unter der Bestellnummer PZP 1110-PE für 24,00 EUR (Details).
---
After their victory over Marshal Soult in northern Portugal, the British plan a joint campaign with their new Spanish allies to capture Madrid. The initial Allied plan is to pin the Victor corps in the Tage valley against the main Anglo-Spanish force while Vénégas, coming from Bailen, threatens the ...
Zu kaufen unter der Bestellnummer LFE LMIV für 30,00 EUR (Details).
---
In Transhumanity's Fate, you play secret agents protecting the scattered remnants of transhumanity from threats that could wipe it out once and for all. You might be a crusading hacktivist, an anarchist militia fighter, a planet-hopping xenoscientist, a psychic detective, or a social networker owed ...
Zu kaufen unter der Bestellnummer PHS+ 21003 für 20,00 EUR (Details).
---
Victory or Death: The Peloponnesian War, the next game in the Quartermaster General Series, is a card driven/hand management/area control eurogame/wargame for 2 to 4 players playing on two teams, and takes about 90 minutes to two hours to play. On one side are the Athenians and the Delian League, th...
Zu kaufen unter der Bestellnummer PSCG GGM06 für 52,00 EUR (Details).
---
The postcards in every local drug store read, "Welcome to Fabulous Farmingdale!", an ad campaign that was the brainchild of Mayor Hernandez (who coincidentally employed his wife's public relations firm to market their community). But right now, things are far from fabulous in Farmingdale and, for on...
Zu kaufen unter der Bestellnummer VPG DotZ03 für 98,00 EUR (Details).
---
Der Kontinent Westeros verfügt über eine reiche Historie, viele verschiedene Kulturen und nahezu unzählige Adelshäuser. Eine der denkwürdigen Eigenschaften der Welt von Das Lied von Eis und Feuer sind die Details, die man über die Adelsfamilien erfährt, denn jede besitzt ihr eigenes, einzigartiges W...
Zu kaufen unter der Bestellnummer MAV 0803 für 29,95 EUR (Details).
---
Goblins who adventure together party together!

Keet and his sister Nitrel have spent their lives exploring dungeon treasure vaults across the land… and blowing them up. Keet's knock for locating ancient treasures pairs well with Nitrel's knock for blasting holes in ancient walls.

Keet

Keet ...
Zu kaufen unter der Bestellnummer SFG 0025 für 26,00 EUR (Details).
---
Pixel Tactics is a head-to-head card game that's small on size and big on strategy. Build your unit from 25 different hero classes. Rally around a leader that will affect everyone's capabilities, and go to war with your opponent in a fast-paced battle of strategies! This is a standalone game with ev...
Zu kaufen unter der Bestellnummer L99G PT01 für 16,00 EUR (Details).
---
Anmerkungen:
Artikel ist bereits auf dem Weg zu uns
Hands in the Sea is a two-player deck building war game on the First Punic War, between Rome and Carthage, 264-241 BC.

Each player has a starting deck of cards they use to perform various actions, up to two per round. Actions range from colonization, to naval movement, to battle, with most activi...
Zu kaufen unter der Bestellnummer KWL 0001 für 70,00 EUR (Details).
---
Warenkorb

Im Moment ist Ihr Warenkorb noch leer. Klicken Sie auf 'Kaufen' oder 'In den Warenkorb legen', um ihn zu füllen.
News