Kategorien
Kataloge
Service
Seitenabrufe

103820824 Seitenabrufe seit dem 30.06.2003



Willkommen im Fantasy En'Counter!

Im Augenblick bieten wir 37026 Produkte in 10 Kategorien an. Wir wünschen viel Spaß beim Stöbern und stehen natürlich gerne zur Verfügung!
---
Castle Fest ! 01.08.14 - 03.08.13 ! (Allgemein)

Friday, Saturday and Sunday, the 1st to 3rd of August, it is "Castle Fest" Time!

please see:

Three days of absolut Fantasy!

Opening hours: 10:00 - 24:00 on Friday & Saturday

10:00 - 20:00 on Sunday

Location: Kasteel Keukenhof

2161 AN Lisse

The Netherlands

We could say you know the drill, but some of you may be new to the Castle Fest.

So here is how it works:

You preorder, or send suggestions of what you want to see at our booth and we'll bring it along!

IMPORTANT: We will severly cut back on the amount of RPG Books that we bring along on speculation alone. So be sure to tell us what you want to buy, or browse through, in that category!

> Please use our webshop, for your preorders - or your mail could possibly end up in our spam-filter. It happens, all the time. <

cu all in Lisse!

Cheers -

Your New Fan'En Team Alex & Holger
Immer in Bereitschaft! (Allgemein)

Egal was Ihr braucht um Eurem Spiel-Trieb zu frönen .....

Wir sind (wieder) für euch da, jetzt wo Deutschland raus aus der Fußball WM ist ;-]

Dann gilt auch wieder:
Auch ohne Ladenlokal ist jederzeit - also auch an Sonntagen, an Feiertagen oder auch mitten in der Nacht, ein Besuch möglich!
- nur ein Termin sollte unbedingt im neuen Lager vereinbart werden!
(24 Stunden Service! / 7 Tage Woche!! / 365 Tage im Jahr!!!)

Bitte habt Verständnis dafür, dass ein Termin nur möglich ist, wenn vorab eine (vollkommen unverbindliche!) Ordermail eingegangen ist!

Dazu einfach (wie gesagt - vollkommen unverbindlich!) den Warenkorb ordentlich voll machen, Wunschtermin mit angeben und die Bestätigung sowohl für die Verfügbarkeit der Artikel, wie auch des Termins abwarten - Dann klappt's!!

Immer für Euch da - Euer Fan'En Team
Tel: 0049 201 786877
oder: 0151 14233766
fanen@fanen.com
---
Myth is a fully co-operative fantasy game. Players take on the role of one of 5 different heroes working together to defeat the Darkness. Each hero has a different skill set which represented by a unique deck of cards. Players spend Action Points by using cards. Once a certain amount of Action Point...
Zu kaufen unter der Bestellnummer MCX 5901 für 90,00 EUR (Details).
---
The Tome of Horrors? But that's been done already; why do it again? Well, actually it's been done three times, but never like this. With the advent of the Pathfinder Roleplaying Game as the newest torchbearer for the world's most popular role-playing game, we need monsters—lots of monsters. That's w...
Zu kaufen unter der Bestellnummer FGG 10001 für 110,00 EUR (Details).
---
Der siebte Abenteuerband für das Detektiv-Rollenspiel Private Eye!
Patrick Aylewood ist tot: Mit einem gezielten Kopfschuss von dem vor Wut rasenden Vater seiner Ex-Verlobten erschossen. Die Vertreter des Gesetzes gehen schnell zur Tagesordnung über, zu eindeutig scheint die Beweislage. Und so wart...
Zu kaufen unter der Bestellnummer RDP BB07 für 13,95 EUR (Details).
---
Pick. Plot. Play!

Magic: The Gathering–Conspiracy™ is a new standalone booster set where the intrigue begins long before the first spells are cast! The set is designed to be drafted and then played in Free-for-All multiplayer games.

Revolutionary new abilities impact every part of the experien...
Zu kaufen unter der Bestellnummer WOC 75340B für 4,00 EUR (Details).
---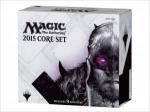 Bolder Core Set than ever before! Magic 2015 products are designed to get new players energized and involved in playing Magic™ in your store. Players follow the story of the cursed Planeswalker Garruk Wildspeaker who's hunting the most challenging quarry of all: other Planeswalkers. Unfortunately fo...
Zu kaufen unter der Bestellnummer WOC 60200 für 40,00 EUR (Details).
---
---
Link des Tages
Wollt Ihr eure Site auch als Link anmelden? Und hier sind noch mehr Links.
---
In the spring of 1954, General Giap shocked the world by doing what had previously been considered impossible—defeating a Western occupying force. Storm Over Dien Bien Phu simulates the climatic moment when the isolated French forces (composed of French legionnaires and elite paratrooper units), cr...
Zu kaufen unter der Bestellnummer MMP SODBP für 46,00 EUR (Details).
---
Reluctant Enemies ("RE") is small game meant to serve as an accessible introduction to the Operational Combat Series ("OCS"). It is one map, with 60 or so combat units (both players) in action at any given time. This allows for a pace of play not possible with the previously published OCS monster ga...
Zu kaufen unter der Bestellnummer GAM RE für 52,00 EUR (Details).
---
Based on H.P. Lovecraft's Cthulhu mythos, in this Kickstarter card game you select an Investigator, and battle the invading Cthulhu Minions and Horrors while building up a team of Followers to help you.

This 1-4 player card/dice game involves combating various monsters from the Cthulhu universe s...
Zu kaufen unter der Bestellnummer DVG 32-029 für 40,00 EUR (Details).
---
"Where there is discord... may we bring harmony." -- Margaret Thatcher, quoting a prayer ascribed to St. Francis of Assisi

At 16.28 hours on the afternoon of Saturday, 1 May 1982, an AIM-9L Sidewinder missile fired from the Sea Harrier of Royal Naval Air Squadron Flight Lieutenant Paul Barton str...
Zu kaufen unter der Bestellnummer FCG WtiD für 140,00 EUR (Details).
---
Take command of the Austro-Hungarian Empire and try to lead it through the horrors of the Great War in Hapsburg Eclipse, a solitaire States of SiegeTM game.

In Hapsburg Eclipse, from designer Darin A. Leviloff, you control the leadership of the Austro-Hungarian Empire and, peripherally, the Germa...
Zu kaufen unter der Bestellnummer VPG HE01 für 30,00 EUR (Details).
---
The Granddaddy of All Dungeons Returns!

Rappan Athuk, the legendary mega-dungeon by Frog God Games and Necromancer Games is nothing more and nothing less than a good, old–fashioned, First Edition dungeon crawl updated for the Pathfinder Roleplaying Game and the Swords & Wizardry rules. Very diffi...
Zu kaufen unter der Bestellnummer FGG 10002 für 110,00 EUR (Details).
---
Plus PROMO-Card "Dance with Squealy Nord" !!

Confront cannibal spirits, the champions of a fallen empire, and the Runelord of Greed with the Pathfinder Adventure Card Game: Spires of Xin-Shalast Adventure Deck. This 110-card expansion to the Pathfinder Adventure Card Game: Rise of the Runelords B...
Zu kaufen unter der Bestellnummer PZP 6006 für 20,00 EUR (Details).
---
The AF4 series was the latest in a long line of Headhunter designs. Cheap and durable, it became a favorite among independent outfits like the Rebellion and Black Sun. Expand and upgrade your X-Wing game! The Z-95 Headhunter Expansion Pack for X-Wing introduces one Z-95 Headhunter starfighter at 1/2...
Zu kaufen unter der Bestellnummer FFG SWX216 für 16,00 EUR (Details).
---
Rivet Wars is a miniatures boardgame that springs forth from the warped imagination of Ted Terranova - set on a world that never quite left World War I but with crazy technology like walking tanks, diesel powered armor, unicycled vehicles and armor plated cavalry!

Don't let the cute visuals fool ...
Zu kaufen unter der Bestellnummer CMoN 0001 für 108,00 EUR (Details).
---
In diesem Spiel wird keine Langeweile aufkommen. Zu Beginn jedes Spielzugs geben die beiden Spieler ihren Einheiten verdeckt und simultan ihre Befehle mit unterschiedlichen Prioritäten. Diese Befehlsmarker werden dann in der Aktivierungsphase abwechselnd aufgedeckt und ausgeführt. Und zusätzliche gi...
Zu kaufen unter der Bestellnummer SKV 2000 für 66,00 EUR (Details).
---
Warenkorb

Im Moment ist Ihr Warenkorb noch leer. Klicken Sie auf 'Kaufen' oder 'In den Warenkorb legen', um ihn zu füllen.
News