Kategorien
Kataloge
Service
Seitenabrufe

108811587 Seitenabrufe seit dem 30.06.2003



Willkommen im Fantasy En'Counter!

Im Augenblick bieten wir 38832 Produkte in 10 Kategorien an. Wir wünschen viel Spaß beim Stöbern und stehen natürlich gerne zur Verfügung!
---
Elf Fantasy Fair ! 24.04.15 - 26.04.15 ! Dank U Wel ! (Allgemein)

We want to thank all of our customers on the Elf Fantasy Fair !

Dank U Wel !!!

We had a blast on the show !
All the purchases you made ;-), the costumes, the people, the nearly nice weather, made this a great show for us.

We hope you had at least as much fun as we had and that we'll see all of you back on the Elf Fantasy at Arcen or in Haarzuilens next year.

Cheers -
Uli & Holger
Immer in Bereitschaft! (Allgemein)

Na wie schaut's aus? - Fußball, Fernsehn, oder heute doch lieber etwas spielen?
Egal was Ihr braucht um Eurem Spiel-Trieb zu frönen .....
Der Fan'En ist immer für Euch da!

Daher gilt:
Auch ohne Ladenlokal ist jederzeit - auch an Sonntagen, an Feiertagen oder
mitten in der Nacht, ein Besuch möglich!

Aber!: Ein Termin muss für den Besuch im Lager unbedingt vorher vereinbart
werden! (24 Stunden Service! / 7 Tage Woche!! / 365 Tage im Jahr!!!)

Bitte habt Verständnis dafür, dass ein Termin nur möglich ist, wenn vorab
eine (vollkommen unverbindliche!) Ordermail eingegangen ist .... denn Ihr
wollt doch wissen was alles da ist und nicht vergeblich kommen.

Dazu einfach (wie gesagt - vollkommen unverbindlich!) den Warenkorb
ordentlich voll machen, Wunschtermin angeben und die Bestätigung sowohl über
die Verfügbarkeit der Artikel, wie auch des Termins abwarten
- Dann klappt's auch!

Euer Fan'En Team - Immer für Euch da!

Tel: 0049 201 786877
oder: 0151 14233766
fanen@fanen.com
---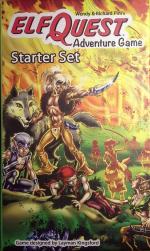 Elfquest's World of Two Moons is calling! Gather your elf tribe together - your very survival is at stake. Life can be difficult, even brutal, as you deal with fearful and violent humans, treacherous and manipulative trolls, and all manner of strange creatures and harsh environments.

It is time t...
Zu kaufen unter der Bestellnummer CDG 101 für 32,00 EUR (Details).
---
With the Legendary Villains: 'Fear Itself' expansion for Legendary and Legendary: Villains, you can play through the "Fear Itself" storyline from Marvel Comics. This expansion consists of six new allies from The Worthy: Kuurth, Mul, Skirn, Nerkkod, Greithoth and Skadi; one new adversary group; one n...
Zu kaufen unter der Bestellnummer UDE LMDB07 für 28,00 EUR (Details).
---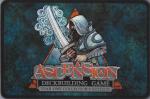 Gather your Heroes and Constructs to fight the fallen god Samael and his minions in style; all 322 cards feature updated card frames in a premium foil finish. Beautiful cards and premium components make this the perfect centerpiece for any Ascension collection.

This set includes Ascension: Chroni...
Zu kaufen unter der Bestellnummer SBE 0201 für 110,00 EUR (Details).
---
"General, im Sektor 4 nähert sich aus dem Hyperraum eine Flotte von Sternenzerstörern."
– Das Imperium schlägt zurück
Star Wars: Armada ist ein Miniaturenspiel für 2 Spieler, in dem Flottenverbände der Rebellenallianz und des Galaktischen Imperiums in epischen Raumschlachten um das Schicksal der G...
Zu kaufen unter der Bestellnummer HSV 1200 für 98,00 EUR (Details).
---
Der Weg in die Mysterien
Magie kann dir das Hirn und die Seele rausbrennen. Sie kann jeden Millimeter deiner Adern mit Kraft aufpumpen oder dich als Häufchen Asche in einer dunklen Gasse liegen lassen. Natürlich ist sie gefährlich. Aber Magie ist Macht, und in der Sechsten Welt wäre es Wahnsinn, si...
Zu kaufen unter der Bestellnummer PPV 45023G für 19,95 EUR (Details).
---
---
Link des Tages
Wollt Ihr eure Site auch als Link anmelden? Und hier sind noch mehr Links.
---
Salerno, "The next step" in Variable Combat Simulation!

MMP is proud to announce the creation of a new series of games, the "Variable Combat Series (VCS)." The Series opener is VCS Salerno, a game undertaking the nearly impossible task of depicting the 1943 Allied invasion of Southern Italy and p...
Zu kaufen unter der Bestellnummer MMP VCS1 für 52,00 EUR (Details).
---
Europe, 1702. The death of king Charles II of Habsburg left the throne vacant and started a war all over Europe to settle the matter of the Spanish Succession. The Archduke Charles III of Austria, the Habsburg heir, was discarded by the last will of Charles II, signed almost on his deathbed, in favo...
Zu kaufen unter der Bestellnummer GMT DV-1714 für 74,00 EUR (Details).
---
Brawling Battleships is a fast paced card game that pits squadrons of dreadnought battleships against each other in a wild free for all fight. From two to six players can play individually or in teams. Points are scored for sinking the opponents dreadnoughts, but that is easier said than done amid d...
Zu kaufen unter der Bestellnummer LBG 0003-BB für 32,00 EUR (Details).
---
Anmerkungen:
Sonderangebot
Achtung - aufgrund des hohen Dollar Kurses - ab 01.05.15: 108,- EUR!!

Hakkaa Päälle! (Advanced Squad Leader Module 14) provides the ASL player with the complete order of battle for the Finns, including every major vehicle, gun, and squad type that saw combat during World War II. Chapter H distill...
Zu kaufen unter der Bestellnummer MMP HAP für 96,00 EUR (Details).
---
Cthulhu Wars is a strategy boardgame in which the players take the part of alien races and gods taken from the Cthulhu mythos created by H. P. Lovecraft. The game is physically large, and includes sixty-four figurines of the cultists, monsters, aliens, and Great Old Ones that range in height from ap...
Zu kaufen unter der Bestellnummer PET 0001 für 224,00 EUR (Details).
---
Warenkorb

Im Moment ist Ihr Warenkorb noch leer. Klicken Sie auf 'Kaufen' oder 'In den Warenkorb legen', um ihn zu füllen.
News