Kategorien
Kataloge
Service
Seitenabrufe

111819390 Seitenabrufe seit dem 30.06.2003



Willkommen im Fantasy En'Counter!

Im Augenblick bieten wir 39783 Produkte in 10 Kategorien an. Wir wünschen viel Spaß beim Stöbern und stehen natürlich gerne zur Verfügung!
---
Spiel '15 ... und wie immer sind wir mit dabei ! (Allgemein)

Nächste Woche geht es wieder los - vier Tage Stress, Spaß und jede Menge "zu wenig Schlaf"! Wir entschuldigen uns schon mal vorab für alle Verspätungen beim Versand, beim Service und auch dafür, das wir von Donnerstag bis zum folgenden Dienstag (einschließlich) kaum Besuchstermine im Lager vergeben können.

Die Internationalen Spieltage SPIEL '15 (08.10. - 11.10.15) - die weltweit größte Publikums Show für Spiele - bieten ihren Besuchern die einmalige Möglichkeit, sich umfassend über das gesamte nationale und internationale Spieleangebot zu informieren und dieses einem ausführlichen Test zu unterziehen. Nirgendwo sonst finden Sie die gesamte Spielszene so vollständig versammelt. Verlage, Autoren, Hersteller und natürlich Spieler treffen sich hier einmal im Jahr um Erfahrungen auszutauschen, sich über das Neueste zu informieren und ihre Produkte einer breiten Öffentlichkeit vorzustellen.

Auf einer Fläche von rund 44.100 qm werden Brettspiele aller Art, Kinder-, Gesellschafts-, Familien- und Erwachsenenspiele - sowie Strategie-, Post-, Abenteuer-, Fantasy-, Science-Fiction- und Computerspiele gezeigt. Natürlich fehlen auch die Klassiker Schach, Doppelkopf, Bridge, Go und Backgammon nicht.

Ausnahmslos alle Verlage laden an zahlreichen Tischen zum Mitspielen ein. Animateure erklären Unbekanntes; Wettbewerbe, Kurse und Turniere runden das Programm ab.

Die Internationalen Spieltage SPIEL '13 bieten Erwachsenen, Jugendlichen und Kindern eine kommunikative Erlebniswelt. Hier können Sie sich kurz vor Weihnachten umfassend über das gesamte Spieleangebot informieren und bei Gefallen auch direkt kaufen.

Die COMIC ACTION '15
- ein Muss für alle Freunde dieser Kunstform

Die COMIC ACTION, die im Rahmen der SPIEL stattfindet, gibt einen breiten Überblick über den in- und ausländischen Comic-Markt. Große und kleine Verlage präsentieren ihre Produkte. Bekannte Zeichner zeigen ihre Arbeiten und signieren ihre Werke. Fachverbände und Fachzeitschriften stellen sich vor. Ein großes Comic-Antiquariat lässt die Herzen aller Sammler höher schlagen. Außerdem finden Sie Original Comic Artwork, Poster und Kunstdrucke, T-Shirts, Actionfiguren und alles, was zu dieser Kunstform gehört.

Auch wir sind wieder mit unserem vollen Sortiment dabei - Halle 2 / Stand D122 - wie jedes Jahr zusammen mit CHESSEX - You can never have too much dice!

Nochmal: Das Lager bleibt während dieser Zeit geschlossen.
Also schaut mal am Stand vorbei und kauft kräftig ein!

Wir sehen uns - Euer Fan'En Team - immer! für Euch da ....
---
Featuring beautifully detailed painted miniatures, X-Wing is a two-player game of dramatic starfighter battles set in the Star Wars universe. You and your opponent take command of Resistance X-wings and First Order TIE fighters, then battle head-to-head for the fate of the galaxy.

Secretly plot y...
Zu kaufen unter der Bestellnummer FFG SWX036 für 40,00 EUR (Details).
---
Key monsters and NPCs from the Giantslayer Adventure Path come alive on your tabletop with the Giantslayer Pawn Collection, featuring more than 100 creature pawns for use with the Pathfinder Roleplaying Game or any tabletop fantasy RPG! Printed on sturdy cardstock, each pawn presents a beautiful ful...
Zu kaufen unter der Bestellnummer PZP 1016 für 26,00 EUR (Details).
---
Learn all there is to know about the peoples of the Pathfinder campaign setting, from elves and dwarves to goblins and strix, in this massive 256-page hardcover companion to the Inner Sea World Guide! Along with expansive details on Golarion's most prominent races you'll find whole chapters of excit...
Zu kaufen unter der Bestellnummer PZP 9280 für 46,00 EUR (Details).
---
D-Day at Peleliu is a solitaire game simulating the amphibious invasion of Peleliu in the Palau Islands. The Marines assaulted with the primary goal of capturing the airstrip nestled amid jungle and overlooked by forbidding mountain terrain. Though Maj. Gen. William Rupertus, commander of the divisi...
Zu kaufen unter der Bestellnummer DCG 1026 für 60,00 EUR (Details).
---
---
Link des Tages
Wollt Ihr eure Site auch als Link anmelden? Und hier sind noch mehr Links.
---
Return to the world of the Second Great War, where Wilson's Peace ended the First Great War on Christmas 1916. Twenty-four years later war returned to Europe, with Russia, France and Italy seeking to overturn the settlement with a war of aggression against the Central Powers of Imperial Germany, Aus...
Zu kaufen unter der Bestellnummer APL 0861 für 40,00 EUR (Details).
---
The 29th Infantry Division was a National Guard division filled out by draftees, mostly from Maryland and Virginia. Its three infantry regiments traced their roots back to before the American War of Independence and through the American Civil War, leading to the 29th being called the"Blue and Gray D...
Zu kaufen unter der Bestellnummer MMP AP11 für 26,00 EUR (Details).
---
In Gloom, from Atlas Games, you take control of a family of miserable people and make them more miserable, trying to become the most miserable family before you kill your family off.

Now what if you combined Gloom with Munchkin? Keith Baker of Atlas Games is doing just that! Munchkin Gloom is a g...
Zu kaufen unter der Bestellnummer ATG 1333 für 30,00 EUR (Details).
---
In dieser Softcover-Veröffentlichung erwarten den Spielleiter zwei Abenteuer, die sich jeweils einem typischen Element von Cthulhu verschrieben haben:
Zuerst gilt es in dem titelgebenden Abenteuer, einigen Meldungen von der Sichtung eines Geisterschiffs an der englischen Küste nachzugehen. Vor alle...
Zu kaufen unter der Bestellnummer PPV 40042 für 9,95 EUR (Details).
---
Special Ops #6 has 8 articles, 2 ASL scenarios, 2 ASLSK scenarios, and Storm Over Normandy, a complete game.

Featured articles cover ASL Action Pack #11: 29 Let's Go!, The Mighty Endeavor (SCS), The Devil's Cauldron (GTS), and previews of both the upcoming OCS game Hungarian Rhapsody and the firs...
Zu kaufen unter der Bestellnummer MMP SP06 für 32,00 EUR (Details).
---
Legendary Encounters: A Predator Deck Building Gameis based on the first two movies of the Predator series. Taking on the roles of characters from the films, players take turns recruiting cards for their deck from a central selection in order to improve their deck and defeat Predator cards that are ...
Zu kaufen unter der Bestellnummer UDE LMDB07 für 70,00 EUR (Details).
---
Firefly: Shiny Dice lasts three rounds, and whoever has the most points after three rounds wins. In each round, each player takes one or more turns. On your first turn in a round, you roll all fifteen dice — seven crew dice (brown), three passenger dice (white), and five bad guy dice (black) — then ...
Zu kaufen unter der Bestellnummer UDE 82802 für 30,00 EUR (Details).
---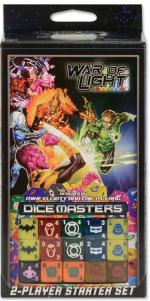 DC Comics Dice Masters: War of Light is a collectible dice-building tabletop game designed by Quarriors! creators Michael Elliott and Eric M. Lang.

In this game, each player fields one of the superhero teams, with each hero — Batman, Wonder Woman, Hal Jordan, Mogo, Superboy Prime, Sinestro and mo...
Zu kaufen unter der Bestellnummer WZK 72029 für 24,00 EUR (Details).
---
Warenkorb

Im Moment ist Ihr Warenkorb noch leer. Klicken Sie auf 'Kaufen' oder 'In den Warenkorb legen', um ihn zu füllen.
News