Kategorien
Kataloge
Service
Seitenabrufe

104954129 Seitenabrufe seit dem 30.06.2003



Willkommen im Fantasy En'Counter!

Im Augenblick bieten wir 37554 Produkte in 10 Kategorien an. Wir wünschen viel Spaß beim Stöbern und stehen natürlich gerne zur Verfügung!
---
DUCOSIM ! 13.12.2014 ! (Allgemein)

Saturday, the 31th of Januar 2015, it is DUCOSIM Time again!

This time we will come together again (Stefan & Holger)!

Since the show moved from Utrecht to Amersfoort, we sadly noticed a steep decline in preorders and sales.
Please tell us your wishes, tips and/or even gripes you'll could have.
I have to get all the input we can get to optimize your shopping experience (and our revenue ;)).

I could say you know the drill, but some of you may be new to the DUCOSIM.
So here is how it works:
You preorder, or send suggestions of what you want to see at our booth and we'll bring it along! (PLEASE - PLEASE use the order system of our page!!! - or we will not see your pre-orders, because they could end up in the spam filter!)

IMPORTANT: We have severly cut back on the amount of RPG Books & games that we bring along on speculation alone. So be sure to tell us what you want to buy or browse through in this category!

CU all in Amersfoort at the 31th of Januar!

Cheers - Holger
Auch im neuen Jahr - Immer in Bereitschaft! (Allgemein)

Für die Pressefreiheit - Für die Meinungsfreiheit - Für die Freiheit der Kunst - und auch für die absolute Themenfreiheit bei allen Spielen!

Egal was Ihr braucht um weiter Eurem Spiel-Trieb zu frönen .....
Der Fan'En ist immer für Euch da!
Deshalb gilt für das neue Jahr vollkommen zensur-frei:

Auch ohne Ladenlokal ist jederzeit - auch an Sonntagen, an Feiertagen oder
mitten in der Nacht, ein Besuch möglich!
Aber!: Ein Termin muss für den Besuch im Lager unbedingt vorher vereinbart
werden!
(24 Stunden Service! / 7 Tage Woche!! / 365 Tage im Jahr!!!)

Bitte habt Verständnis dafür, dass ein Termin nur möglich ist, wenn vorab
eine (vollkommen unverbindliche!) Ordermail eingegangen ist .... denn Ihr
wollt doch nicht vergeblich kommen.

Dazu einfach (wie gesagt - vollkommen unverbindlich!) den Warenkorb
ordentlich voll machen, Wunschtermin angeben und die Bestätigung sowohl über
die Verfügbarkeit der Artikel, wie auch des Termins abwarten
- Dann klappt's auch!

Ein schönes 2015 für alle & ein perfektes neues Spiele-Jahr, wünscht Euch Euer Fan'En Team - Immer für Euch da!

Tel: 0049 201 786877
oder: 0151 14233766
fanen@fanen.com
---
Expand And Upgrade Your Dungeons and Dragons: Attack Wing Game!

Umberlis was once an average Black Dragon, not particularly powerful or respected among his peers. But that was before he slew an assassin and stole the creature's Cloak of Shadows, a thing of power that seemed to speak to him. It tr...
Zu kaufen unter der Bestellnummer WZK 71602 für 26,00 EUR (Details).
---
Zwei mächtige antike Reiche wachsen heran: Sie befahren die Meere, gründen neue Städte, errichten prächtige Tempel und entwickeln neue Technologien. Doch Siedlerland und Ressourcen sind begrenzt, und schon bald droht ihre friedliche Koexistenz in militärische Konflikte umzuschlagen. Wer kann seine ...
Zu kaufen unter der Bestellnummer PDV 0011 für 32,00 EUR (Details).
---
What Lurks Beneath The Waves?

This is the Revised edition brought up to date for use with the Achtung! Cthulhu Investigator's and Keeper's Guides

Achtung! Cthulhu brings you a wartime CALL OF CTHULHU roleplaying game setting packed full of fiendish Nazis, terrifying ancient mysteries, legendar...
Zu kaufen unter der Bestellnummer MPE 01012S für 22,00 EUR (Details).
---
Legion of Honor is a highly innovative game that recreates the personal drama of the Napoleonic wars. Using a quick-playing, card-driven game system, each player assumes the role of a French soldier -- or grognard -- starting out as a young sergeant or sous-lieutenant trying to make it in life begin...
Zu kaufen unter der Bestellnummer COA 1006 für 66,00 EUR (Details).
---
Shadows of Brimstone: Swamps of Death is a fast-paced, fully cooperative, dungeon-crawl board game set in the Old West, with a heavy dose of unspeakable horror! Players create characters, taking on the role of a classic Western Hero Archetype, such as the Law Man, Gunslinger, or Saloon Girl. Forming...
Zu kaufen unter der Bestellnummer FFP 0702 für 100,00 EUR (Details).
---
---
Link des Tages
Wollt Ihr eure Site auch als Link anmelden? Und hier sind noch mehr Links.
---
It's the distant future, and mankind has taken a galactic leap forward through space, time, and technology. Life as we know it struggles to endure on the Abaddon. Once the home of a mysterious, non-human civilization, the planet is now a desolate wasteland bearing one immensely precious resource: Fe...
Zu kaufen unter der Bestellnummer TYV 75002 für 74,00 EUR (Details).
---
Everything a Dungeon Master needs to weave legendary stories for the world's greatest roleplaying game The Dungeon Master's Guide provides the inspiration and the guidance you need to spark your imagination and create worlds of adventure for your players to explore and enjoy.

Inside you'll find ...
Zu kaufen unter der Bestellnummer WOC 92190 für 50,00 EUR (Details).
---
This is the game that Rob (lead designer of 4th edition D&D®) and Jonathan (lead designer of 3rd edition D&D®, Over the Edge and Everway) play at their own tables. 13th Age brings to the table new mechanics. Icon relationships, the escalation die are unique features which offer exciting storytelli...
Zu kaufen unter der Bestellnummer PEL 13A01 für 52,00 EUR (Details).
---
Firefly: Out to the Black is a quick card game that plays from three to five players. It's unusual in that the players do not compete against each other, but compete against the game. This is a fairly new style of game called a co-op game or cooperative game. Players take on roles of the crew of Ser...
Zu kaufen unter der Bestellnummer TYV 23002 für 26,00 EUR (Details).
---
Solitär Spiel!!

Fleet Commander Nimitz is the fourth game in our Commander series of solitaire games. For the first time, we take the Commander series to the high seas!

At the start of the war, Nimitz faces a Pacific Ocean on the brink of disaster. The Imperial Japanese Navy has just deli...
Zu kaufen unter der Bestellnummer DVG DV1-022 für 100,00 EUR (Details).
---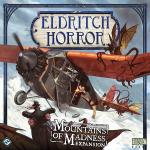 Explore the farthest reaches of Antarctica in Mountains of Madness, the second expansion for Eldritch Horror. Inspired by H.P. Lovecraft's novella, this expansion allows you to trace the path of a doomed expedition and enter the immense City of the Elder Things. What happens in Antarctica has worldw...
Zu kaufen unter der Bestellnummer FFG EH03 für 50,00 EUR (Details).
---
Wings of Glory is a game system that allows players to recreate aerial combat during World War I and II, using cards and miniatures to represent the airplanes and their maneuvers. In Wings of Glory players will control one or more airplanes, taking to the skies to engage their opponents in aerial du...
Zu kaufen unter der Bestellnummer ARG GF001B für 30,00 EUR (Details).
---
The Prussian Army is a the fourth Coalition expansion for Commands & Colors Napoleonics.

During the Seven Years' War, small Prussia under Frederick the Great defeated the armies of Austria, Russia, and France to increase the size of its territories two fold and become a major power in Europe. But...
Zu kaufen unter der Bestellnummer GMT 1408 für 56,00 EUR (Details).
---
ECHOES OF WAR: THRILLIN' HEROICS combines the first four stand-alone adventures for the FIREFLY RPG – including Wedding Planners by NYT-bestselling author Margaret Weis. You and your Crew will fly from one side of the 'Verse to the other when you escort a spoiled, Princess of the Rim, rescue a war-t...
Zu kaufen unter der Bestellnummer MWP 7015 für 36,00 EUR (Details).
---
Fire up your engines and full burn out to the edge of the 'Verse. Firefly: The Game – Blue Sun expands the game with a new 10" x 20" map extension that adds new systems to explore and exploit in an area of space known as the Rim.

Rim Space is not a place for the faint-hearted, and a ship pushing ...
Zu kaufen unter der Bestellnummer GF9 BT008 für 42,00 EUR (Details).
---
This army box has a counter tray that helps to bring order to your collection.
Expansion for the Heroes of Normandie base game contains:

Terrain Expansion for Heroes of Normandie base game.
Introduces rivers to the base game.

Contains:
5 new double sided terrain tiles.
1 punchboard with ru...
Zu kaufen unter der Bestellnummer DPG 2006 für 24,00 EUR (Details).
---
Warenkorb
News